| | | | |
| --- | --- | --- | --- |
| | Children Fiction posted December 4, 2013 | Chapters: | ...5 6 -7- |
Edie keeps a secret on Christmas
A chapter in the book Gramalot's Storybook Edie's Christmas Secret


Background
Chapter in book of short stories and poems for kids of all ages and for all occasions.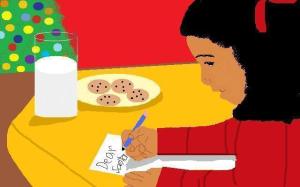 Edie was really worried that Santa wouldn't be able to find her this Christmas. She and her Mommy had just moved from their big farmhouse in Pueblo, Colorado to a huge apartment building in Denver. She just knew there was no way Santa would know which apartment was hers. But the biggest worry she had was there was no fireplace for Santa to come down on Christmas Eve, even if he did figure out where she lived.
"Mommy, how will Santa bring my toys this year? How will he find me in this big ugly building?" Edie's eyes filled with tears as she sadly looked at her Mommy.
"It'll be ok, Edie, I promise. I have an idea. Why don't you write Santa a letter and tell him you moved. I'm sure he'll get it and then he'll know exactly where you are."
"Ok, Mommy, if you say so." Edie said. Then she sat down at her little desk, took a paper and pen out of her Barbie backpack and began her letter.
Dear Santa;
Hi, this is Edie. I hope you remember me. We lived in our big brown house last year in Pueblo, but we had to move to Denver. I hope you can find me this year. Please, Santa, Mommy said you'd know where I am. I hope so, cause she's mostly right when she says things. 'K, Santa, I would like a Barbie doll with cute clothes and a doll house. But mostly I just want to know you can find us here, so just bring something and I'll be happy. And, remember, I'll have some cookies Mommy and I make for you, just like always. And Santa, my dog, Chief, is really unhappy since we moved here cause he don't have a big yard to play in anymore, so, could you bring him a new ball and chew toy, too? We live by the park and I take him there to play. Thanks, Santa. Be careful in your sleigh and give Rudolph a hug for me. Love, Edie.
Edie sealed her letter and gave it to her Mommy, who promised she'd mail it that same day.

~~~~~

Edie couldn't close her eyes she was so excited. It was Christmas Eve and she'd been lying in bed for hours and hours, or at least it seemed that long to her. She was happy but nervous about Santa finding her in this big busy city
. She kept crawling out of bed and going to the window with Chief, looking up into the starlit sky.

"Gosh, Chief, I hope Mommy's right and Santa can find us here. How do you think he's going to get our presents inside without a chimney like he used to?" And she clung tight to Chief with all her might, trying to hold back her tears.

"Arf" Chief softly barked as if to comfort Edie and tell her he knew Santa would find them, just like Mommy had promised.

Edie finally crawled back into bed. She had just started to nod off when a muffled noise suddenly woke her up.

"Chief, do you hear that? It sounds like someone's calling my name. Who do you think it is?"

With Chief at her side, Edie crept quietly out into the living room. The Christmas tree was still lit, the cookies were set on her little table and it all seemed just like it ha been when she went to bed. She thought must be imagining things when she heard the muffled noise again.

"Chief, it's not in here. It's outside in the hall. Can you hear it? Yup, it's my name being called alright. We better go see what's going on."

Edie hoped Mommy wouldn't hear her cause she wasn't supposed to go out alone at night. Glancing towards Mommy's room, she quietly opened the front door. As she stepped into the hallway, she heard it again, only much clearer this time.

"Edie, help, can you hear me? I'm stuck in here."

Edie immediately knew where the noise was coming from. It was coming from inside the elevator right outside her apartment.

"Hello, this is Edie. Who's in there?"

"Edie, oh, thank you. It's me, Santa. I'm stuck in the elevator and the door won't open. Can you see the emergency button on the panel? Hurry, push it and see if it will open."

"Santa, oh, my goodness! Yes, yes..." and she stood on her tippy toes to barely reach the button marked with the big red "E".

Slowly the elevator opened and there stood Santa all flustered and red-faced.

"Oh, Edie, thank you so much. I was afraid I'd be stuck in that elevator all night and miss all my deliveries. And I know Rudolph and the other reindeers would soon be making a ruckus outside in the parking lot when I didn't return."

"Santa, I'm so happy I heard you. Gosh, and you found me, and I didn't even think about you using the elevator. YAY, look, Chief, it's really Santa." After sharing a big bearhug, Santa, Edie and Chief hurried into the apartment.

"Edie, of course I found you. I got your letter and besides, I already knew where you had moved to. Santa always knows those things. Now, you know I'm supposed to surprise you, so you better go right back to bed. And, just so you know, I didn't forget what you asked me to bring for ole' Chief. Now, off to bed with you so I can finish my work and make the rest of my deliveries before morning."

Chuckling with a "HO, HO, HO" Santa added, " And I think I'll take the stairs back down so I don't get stuck in the elevator again."

Edie gave Santa another hug, reminded him to eat his cookies and with Chief in tow, scurried off to bed.

~~~~

"Edie, wake up. It's Christmas, sweetie. Come out here and see if Santa came."

Edie rubbed her sleepy eyes and ran quickly out to join her Mommy in the living room.

"See, Edie, I told you he'd find you this year. And look at what he brought for you and Chief," Mommy said as she gave Edie a big Christmasey morning hug.

Edie smiled to herself as she gazed at the beautiful new Barbie and doll house under the tree. She laughed and giggled as she lovingly tossed Chief his new red ball and chew toy.

Cuddling close into Chief's soft brown fur, Edie whispered into his big floppy ear ,"Don't say anything, Chief. It'll be our special secret about rescueing Santa last night. Now, let's get ready and go play outside in the park!"
Writing Prompt
Write a short story. The topic is: > Stuck in an elevator <. Minimum length 700 words. Maximum Length 4,000 words.

Stuck in an elevator
Contest Winner





Fun, short story about Santa getting stuck in an elevator on Christmas Eve. Language, dialog and punctuation on purpose for this story and age of character. Thank you, VMarguarite for your cute picture to accompany my story.

Pays one point and 2 member cents.

Artwork by VMarguarite at FanArtReview.com






You need to

login

or

register

to write reviews. It's quick! We only ask four questions to new members.



© Copyright 2020. gramalot8 All rights reserved. Registered copyright with FanStory.
gramalot8 has granted FanStory.com, its affiliates and its syndicates non-exclusive rights to display this work.