| | | | |
| --- | --- | --- | --- |
| | Fantasy Fiction posted March 6, 2018 | Chapters: | ...6 7 -8- 9 |
Nara and Lightning flee for their lives.
A chapter in the book Legend Chasers Lightning's Flight
The author has placed a warning on this post for violence.




Background
Fleeing across the prairie, Nara and Old Buck find their pursuers more than just Wampus cats, and their flight more than just a race.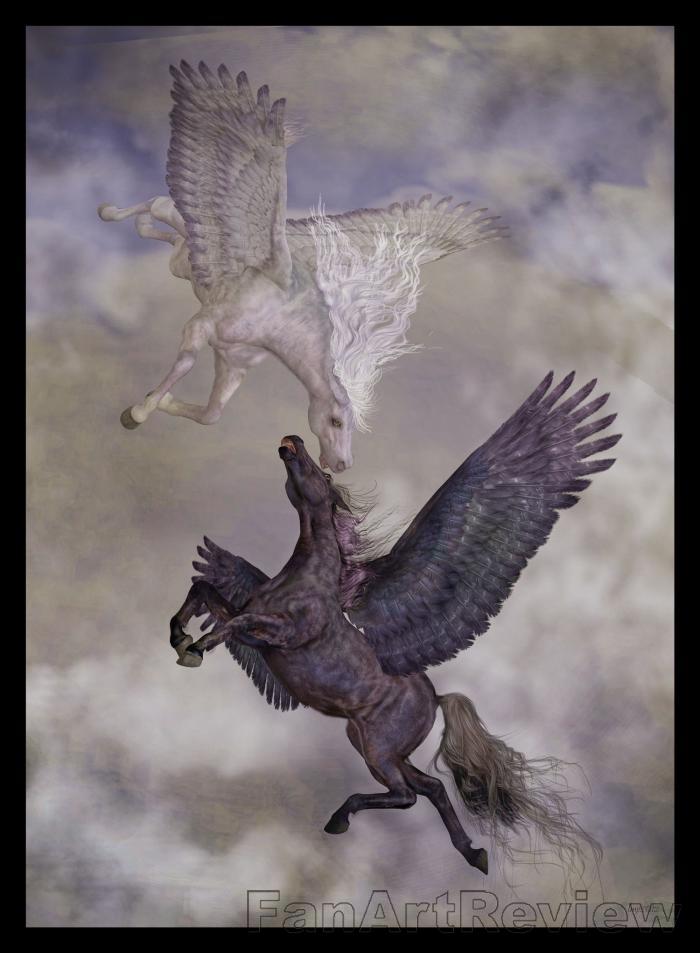 End of Chapter 7:

"Run?" Nara said. "We can barely walk through this mess."

Henry took off his hat and swatted Nara's horse on its bottom.

"Get her out of here, Lightning."

The old horse threw his head up, his nostrils flaring out in anger. Ten years fell off his countenance, as he became alert and aware. Old flabby muscles tightened and bunched. He jerked his head forward, and sprang to the left off the path. An unnerving cat cry followed in their wake.

"What about the kids?" Nara cried. "Buck, Lightning, whatever your name is, take me back."

The old horse shook his shaggy head and ran. Nara grabbed onto the horse's mane as he tore through the trees and underbrush with the ease of a John Deere tractor and the speed of a thoroughbred. She clung on for dear life as he took her farther and farther away from the others.


Chapter 8 Begins:

The tireless steed cleared the woods and broke into open ground. Behind him, Nara heard the pursuing echo of several sets of footfalls. Thump, thump ... large cat paws; clop, clop... a horse.

Great! At least one of the brothers had followed. The others, she hoped, were guiding children to safety.

Hazarding a glance backward, Nara saw something that both surprised and alarmed her. Rather than the black stallion of Hank, the paint of Harry, or the serious brown mare of Henry, galloped a fiery red horse with a rider cloaked in crimson robes.

At the horse's heels were two cougar-like cats. The beasts didn't sport the face of a woman, as in legend, but neither did they look like any cat Nara had seen on Discovery Channel.

Their faces were elongated, almost dog-like in appearance, and bore sharp teeth they gnashed and snapped. Each had three pairs of powerful legs employed in effortless competition with the red stallion.

"Wampus cats, I presume," Nara said aloud.

She turned forward to look at the pasture before her. It was dotted with dried bushes and jutting rocks. She feared the small gelding would trip, spilling her on the ground and putting them in the way of their pursuers. She patted him on the neck and whispered encouragement. He whinnied back.

"Who's the dude in the red cloak?" she asked. "Old man Riley didn't tell us about him."

Lightning snorted as though he had understood the question, or at least its intent. He didn't seem too happy with the strange appartition's appearance, either.

Nara glanced behind again. She saw the man in red gaining on them quickly. Nara wasn't surprised, he had a larger and younger horse. She could almost feel his breath on her face, she could definitely hear it.

"Old Buck, Lightning, whatever your name is, I think we're losing the race."

Lightning snorted again and shook his body so hard, Nara was afraid he was having a seizure. Then, to her complete shock, pure white wings sprouted out of his shoulders. Dingy black hair turned a stunning white, and small size transformed to tall and muscular.

"Who are you?" Nara asked.

Lightning shook his snowy mane and burst off the ground in flight. Nara could feel the wind off his magnificent wings as they batted the hot air around them.

She saw the red stranger's horse leap as well, and felt a tug on Lightning's hoove. She looked down to see an armored hand holding fast to the winged horse. The man's enormous body served as an anchor to the winged steed trying to gain air.

From somewhere deep inside, where bravery often hides, Nara felt anger boil up.

"Not today, Loser," she screamed. She leaned over in the saddle and let her foot slip out of the stirrup. Holding onto the saddlehorn, Nara drove a booted foot down on the stranger's hand. She struck again, and again, pouring out frustrations built up over a lifetime of neglect and abuse.

The man let out a frustrated yelp, and fell back on his roan stallion. Nara righted herself in the saddle as the Pegasus horse lifted higher, carrying his charge with him.

"Yeah," Nara called out. "How's that for a race finish?"

The large man grunted, his armoured face hidden beneath a knight's helm. In one motion, he pulled a bow from over his shoulder and fitted an arrow in the string. He hesitated but a fraction of a second before loosing it.

"Go, go!" Nara said, leaning forward in the saddle.

Lightning lunged upward, but not fast enough. Nara felt him shiver as the arrow found a spot in his flawless white wing. He faltered, tipping his rider to one side and forcing her to slide from the saddle.

For just a moment, Nara felt as though she was floating in air in a sort of trance, but the sensation didn't last. She thudded at length into the wretched arms of her enemy.

Above her, Lightning did an aerial somersault, then flew haltingly toward the line of trees that marked the oasis. He was alive, of that, Nara felt assured. But her fate was not so certain.






A special thanks for the artwork, " Skybattle" by LorrainePurviance on FanArt.

The following is a list of characters:

Nara Baker: House Mother, History Teacher

Hank: Art teacher at the school. Middle child in a set of triplets. Nickname: Hades
Harry: Hank's triplet brother. Teaches science. Youngest of the three: Nickname: Zeus
Henry: The third, and oldest of the triplets. He teaches technology. : Nickname: Poseidon

Boarding School Director: Miss Barbara Eddins

Old Man: Riley Byrne - Handyman, storyteller, and reading teacher

Conner: Riley's older brother



Pays one point and 2 member cents.

Artwork by LorrainePurviance at FanArtReview.com






You need to

login

or

register

to write reviews. It's quick! We only ask four questions to new members.



© Copyright 2018. davisr (Rhonda) All rights reserved.
davisr (Rhonda) has granted FanStory.com, its affiliates and its syndicates non-exclusive rights to display this work.