| | |
| --- | --- |
| | Romance Poetry posted March 27, 2022 |
Do You Remember Your First Love?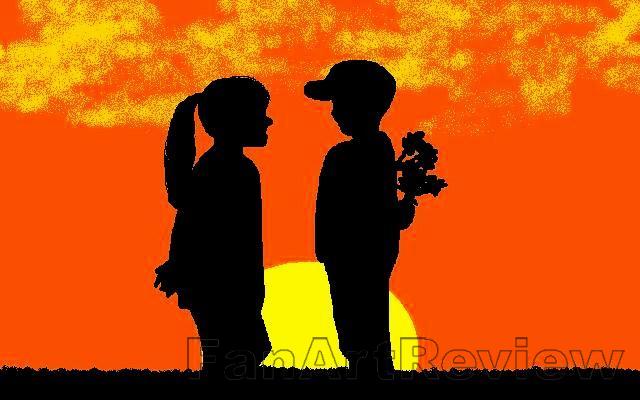 He was a boy of average stature and up from West Virginia he arrived,
I recall how he leaned by the pole on the corner, as I sat on my porch outside,
His glances became quite alluring, as he frequently looked over my way,
With his interest never too obvious, he would not have anything to say,
And as my tablet fell beneath me, I fumbled the pen in my hand,
My radio played in the background, "Baby, You're Still A Young Man,"
I tried to regain my composure, as my heart pounded in beat to the song,
My 14-year old mind had been hijacked by this 13-year old Don Juan.


Out of boredom he liked to kick rocks and casually throw some sticks,
But my eyebrows raised in silence, when he hit our Italianate brick,
It was then he caught my reaction, as he started to walk my way,
My thoughts came fast and were fleeting, trying to think of what to say,
I didn't care much for conversation and company I rarely had,
To hide my coy smile was impossible, I thought "Hmm, this boy is bad!"
His Uncle Bill peered from the window, as his Auntie B yelled to repeat,
"Dannie Gene, did you not hear me? Wash your hands, it's time to eat!"


To her he nodded promptly, "Yes M'am" with a slow southern drawl,
He turned back to me while winking, broad smile with freckles and all.
His white-T displayed an eagle, that drew attention to his dingy blue jeans,
After all, it didn't really matter, because this boy had interest in me!
I nervously doodled on my looseleaf, as I scribbled "Dannie Gene,"
His presence brief and impactful, had disrupted my daily routine,
He was the first boy to overwhelm me, when I met him on that day,
A distraction to my writing, on my porch, my private getaway.


My speech, like his was distinctive, with a Southern Ohio drawl,
Urban kids would laugh aloud, whenever my name was called,
Whether to answer a question or recite my lines within a play,
I was insecure and so unsure about what others had to say,
My hair was thick and frizzy, and I recall how embarrassed I felt,
When a chunk of it held bubble gum, by a boy named Johnny Belt,
Loud Mouth Punch and Goofy Grape became favorite drinks of mine,
Then along came Freckled Face Strawberry and to me, the name was assigned.


Over a period of two amazing summers, we spent so much time alone,
We walked, talked and reminisced whenever we weren't on the phone,
Our handwritten love letters, timeless art with kisses, hearts and stars,
Offered assurance, solace and comfort, as I dreamed of holding him from afar,
We shared our dreams and visions, hoping that one day it would all align,
But our desire to be together, would be thwarted by distance and time,
So I moved away to college, as he attended bootcamp to become a Marine,
After many years, and lots of tears, I can't forget my first love, Dannie Gene.






Love writing prompt entry


Writing Prompt
Write a poem about something or someone you love.

Recognized





This is based on a true story that began in 1973 and ended abruptly in 1974. Although many years have passed, we did reconnect over FaceBook. We have reconnected in the last 6 years and we shared some beautiful memories. He has married several times and I have yet to marry. We share a deep respect for each other and stay in touch. First love relationships are quite significant in the lives of both men and women. I hope you enjoy my story.

Pays one point and 2 member cents.

Artwork by VMarguarite at FanArtReview.com






You need to

login

or

register

to write reviews. It's quick! We only ask four questions to new members.



© Copyright 2022. Seville Bates All rights reserved.
Seville Bates has granted FanStory.com, its affiliates and its syndicates non-exclusive rights to display this work.