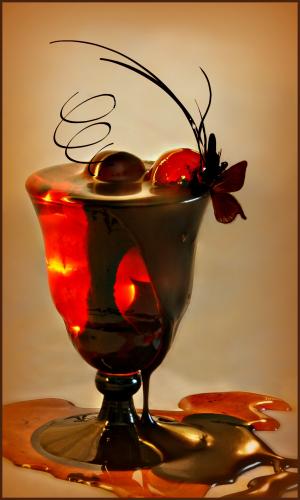 I ache for you my chocolate surprise. The Gods of infinite pleasure surround me, as I've bought up a storm of your liquidy goodness. In my palatial palace of store bought furniture I sit, soaking up your delicious smells. On the hardwood coffee table you stand in your glossy glory. I envy you your timeless beauty and patience. I wish I could hold you forever.

The Gooey Gods of Infinite Pleasure sit here today resting on my coffee stand; inviting, tantalising me with their mouth-sucking goodness. What is more beautiful than the sight of all this sugar? Humanity's sinful pleasure. You encase me in deliciousness; I am but your consumer slave.

You can be mixed with nuts of all descriptions. Raisins and sultanas, peanuts, cashews, walnuts and hazelnuts are consistently used in your making. You bring me new sensations of endless pleasure. Whether I bask in my bubble bath or run through the house on a hectic day, I always have you to look forward to! Replace all men with chocolate! For we can only love one. In your darkness and light, caramel or brittle toffee, your allure tempts me during the day and I dream of you by night.

I love the creamy fudge of a Mars bar. It stands alone in its hasty eating promiscuity. I could live on you in the desert and dream with you in the forest plains, nestled lovingly next to my face. The epoxy cocoa bean is grinded, roasted and melted with copha. Mountains of sugar assist your allure. (My dentist will attest to it!)

Let us be thankful to all who brought her into our existence. Whether it's a Cadbury's, Hershey bars, Whittakers, Reeces, Milky Way, Lindt, Nestle or Dove, we all agree they are the winners. Hats off to you my dreamy chocolate makers!


Author Notes
The best dessert out there is chocolate cream!