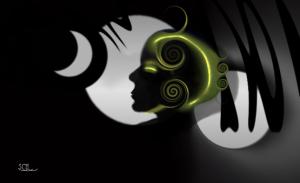 "Hey, let's cut through here," Jenny said as she pointed to the cemetery gates. "It's a great short cut."

"Oh, no, we can't," whined Sally. "I promised Mommy I would never go in there without her."

"We'll be alright, Phyllis is with us and she's almost ten," Jenny said in defence, her hands on her hips.

Phyllis was the older of the three friends, but only by a few months. Sally, Jenny's sister, was the youngest at seven. The three were neighbors and best friends who did everything together. Tonight, they were walking back home from the store, where they had gone to get a few things for Phyllis's mom.

The three friends stood at the cemetery entrance which was located about halfway home. With the acres of trees, the open gates offered a solace from the heat along with a reduction of about ten minutes. More than that if they ran. But it was getting dark, creating shadows that resembled demons to the imagination.

The girls stood looking at the rows and rows of different shapes, representing so may lives that lived. As soon as Phyllis led the troop through the gates, Sally stopped.

"Wait!" Sally pleaded, "I don't wanna." Her face was all scrunched up and her sister knew she was going to start crying.

"Don't you dare!" yelled Jenny, though she did so in a whisper. She grabbed her little sister's hand to pull her along.

"But the people living here are dead!" explained Sally.

"Come on," coaxed Phyllis, "it will be alright."

Sally tried so hard to be brave, but when she saw something black move within the shadows, she changed her mind. She started to panic as she tasted blood and realized she had bitten her lip. She pulled back on Jenny's hand ... hard.

"No, no! We have to leave here. Jenny, I'm scared. There's something over there," Sally said in a frightened whisper as she pointed towards the shadows on their right.

The two girls followed her gaze and, as they watched, a female figure dressed in black appeared out of the shadows and walked toward them. To Sally, it seemed the woman was gliding on air. She was dressed in funny looking black clothes that were long and flowing. She wore a smile and her face seemed to glow in the light of the setting sun.

"What are you children doing here? It's too late for you to be here," the lady in black warned the children as she approached.

"Please," begged Sally. "Will you walk with us? I'm so scared."

"What are you afraid of, my dear?" the lady asked as she kneeled down to Sally. He voice was soothing and quiet.

All at once, the three girls heard what sounded like growling coming from the bushes. Sally started to cry.

"Now, now, calm your fears. It's only a little scared dog, just as scared as you," the lady told Sally. "Let's get going, I'll walk you to the other side."

The girls gathered around her as she headed toward the opposite gate. It was getting darker and the shadows seemed to be closing in. Strange red floating orbs seemed to follow them, blinking off and on like eyes. Sally buried her face in the woman's cloak as she felt Jenny guide her on.

During their walk that Sally thought was taking longer than it should, the girls could hear strange sounds all around them. There was bumping and scratching and scraping that made the little hairs on the back of their necks stand at attention . The darkness seemed to close in so quickly as it surrounded the little group. All the while, the girls could hear the lady in black hum very quietly, they had to really listen to be able to hear her. That kept their minds off the unholy forces they imagined surrounding them.

"Here we are, my darlings. You are safe and sound. Just like I said. I know what it's like to be so afraid," the woman said as she knelt to wipe Sally's tears with her cloak. "I was always afraid. But that was before I died."




Author Notes
689 words

MoonWillow thank you for permission to use your picture.