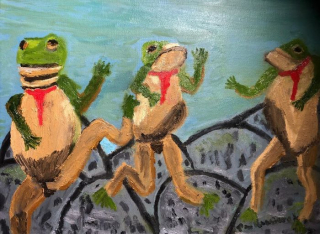 Today I realize my mom placed me in dance lessons not so much because she expected me to be a dancer, but because I was already proving to be clumsy and awkward. She wanted me to have some disciplined movement.
What I got was a clear sense of inferiority. I was energetic, thin, and smart, but incapable of multitasking my body. I could not pay attention to my hands, feet and head at the same time, doing separate things with each.
I was seven.
When I was nine, Mom pulled me out of dance class. I was relieved. I had not liked it. Now I understand 1) we didn't have enough money for me to continue and 2) I was still awkward.

My second foray into dance came when my mother taught tap dancing on our front porch. There were about six of us.
Tap-ball-change, tap-ball-change, turn-kick, turn-kick, tap-ball-change, tap-ball-change, turn-kick, turn-kick. "East Side, West Side, all around the town. . . " I can still do that simple routine. Steve Mooney and I teamed up to do it for the talent show. We planned to do another dance the following year (5th Grade), but it didn't work out. I shot up to be a head taller than he was, and we were both embarrassed—Steve for being short, me for being gawky.

Then came – Ballroom Dancing. Is there anybody that didn't hate this rite of passage. Nowadays dance is so popular on TV that it's probably hard to imagine the sixth grade boys and girls gathered in the gym. Boys wore ties, girls skirts. Boys on the far side, girls near the door. This was so the boys couldn't run out the door when it was time to choose partners.
They ran for the men's room.
I was not one of the girls the boys chose first. Luckily I was not (too often) the girl some reluctant boy was pushed towards after having been rousted from the men's room.
We learned the waltz, a simple three step, and the Fox trot, a simple four step. We learned the cha-cha and the cha-cha-cha. The jitterbug – slow, slow quick quick. Never mind. We tolerated it and learned what we needed from American Bandstand.

Finally, Modern Dance 102, the only dance class I ever chose. It was one of the four semesters of PE required for my degree. I like to think I was the worst in class, but who knows. I was too busy concentrating on my own movement to compare myself much to others. I always attended, and came early. I usually stayed late—I knew I'd get at least a C if I had perfect attendance, and tried. My teacher – bless her – was perceptive enough to see I was doing my best and she did not push me towards the impossible.
For our final exam, we all had to make up, choreograph, and perform a dance. I was brilliant; I went for the humor. To the tune of "Lassus trombone" I portrayed a baby penguin on ice. I could slide with the trombones. I could exaggerate my awkwardness, and if I fell I could cover it as deliberate, a part of the performance.

Years later, as a member of the support staff for disabled students, I assisted a blind student in an adaptive dance class at a community college. There were all manner of disabilities in the class – only a few who moved well, but everyone moved and learned. I finally used my old skills from ballroom dance to help Joshua (not his name) learn the box step, and (his favorite) how to twirl a partner. We made a stab at salsa, but Josh needed to touch his partner or he'd lose her.

My life with Dance hasn't been all bad. In fact, not bad at all. Maybe I'm more graceful than I would have been without my particular exposure to dance, but probably not.

Will I have my daughter in dance? If she wants it.