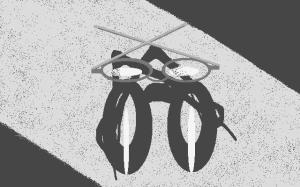 For most of my life I was blind as a bat
Someone said, "see this?" I'd say "I can hardly see that."
Diagnosed with myopia,
Thick ugly glasses gave me a phobia
I'd think "Am I going blind?"
Cosmetic ridicule drove me out of my mind!
Forty-four years of psychological pain
Nearsightedness made me practically insane!
I tried contacts,
Doctor said I had cataracts.
He made a decision:
Laser surgery to correct my vision.
On a feast day of my Holy Queen
And on the day of my father's birth
I finally saw things I'd never seen
Two operations, a month in between,
Opening up a new heaven and a new earth.


Author Notes
I suffered from wearing glasses beginning at age 9 until age 53. On Feb. 11, the Feast of Our Lady of Lourdes, I had laser surgery, followed by another operation exactly one month later, on the day of my father's birth, March 11. This was in 2009. I have gained confidence from not having to wear glasses all the time, though I believe no one should be made fun of for having a physical flaw or imperfection. There were people who said, "get rid of the glasses," and "move your ass down the street or I'll knock those glasses off," and "four eyes," and "you look better without your glasses." Since I experienced all this, I can really sympathize and empathize with people who still have to wear glasses, or have eye ailments. I volunteered at the Association for the Blind for a few years, taping my voice while reading newspaper articles for them to listen to later on the radio. That was very satisfying and fulfilling.