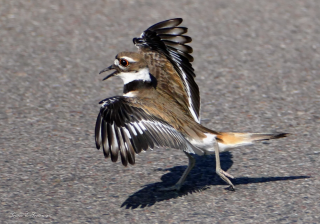 Late last Monday, just a bit before midnight,
an officer arrested a Mr. Bob White
for blatantly dis-birding the peace.
Although Mr. White protested, "Oh, geez,
I have committed no cardinal sin,"
the policeman said, "I'm taking you in
for drunken and dis-birderly con-duck."
Mr. White sighed, "I'm just down on my luck.
Any other charges? Keep right on talking!"
The officer said, "You were blue-jay walking."
Mr. White chirped, "Ah, that's a flighty fable!"
The police said, "Plus, you were robin the cradle
when you picked up a sweet, young chickadee."
Mr. Bob White squawked, "You're accusing me
of robin the cradle? You've got a lot of gull!
These charges won't fly; they are just a lot of bull!
She's over 18, so I have no egrets.
She's even old enough to smoke cigarettes."
Mr. White added, "Besides, here's the thing,
I have gone and bought her an engagement wing!"
"But two charges remain," said the officer then.
"Blue jay-walking and dis-birderly con-duck.
You're drunk as a loon, but you'll get out soon."
"Yeah, all right," muttered White. "I've got pluck."
Author Notes
Originally titled "From the Local Pitts-bird Police Blotter" and thanks to Envision of fanart.com for "Kooky Killdeer" photo. Couldn't find any funny bobwhites, but the coloration is similar.