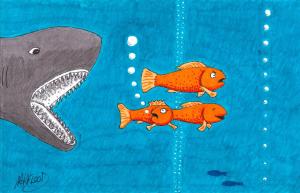 A fin glides by. The ripples in the glassy water are smooth and reflect the clouds in the sky. I watch through my mask. She turns around and again, she swims by. I snorkel often the coast of Cape Cod and see the Great Whites in a natural environment. The prehistoric predators ignore me. An abundance of seals provides tasty meals. I feel small and insignificant in their presence.


I swim to the surface for air. This Great White continues to swim around me. She appears to be watching me. I dive under the surface and observe her through my mask. She speaks to me. Her thoughts reach my mind and I am in awe.


'You are out here all the time? Two legs instead of fins, a weird one, you are."


My eyes grow wide behind my mask. I breathe a little faster through my device. Bubbles descend to the surface.

You ....... are intelligent?!


"Yes, did you think I was not?"


'No...... I always believed you are intelligent."


We face each other in the water, small waves appear and move us closer. I am not totally comfortable so close to a shark. She appears to be as uncomfortable as I am. She backs away
and more words reach my mind.


"You are funny in appearance and I like to watch you in that device."


"It is snorkeling equipment so I can swim easily in the ocean. The mask allows me to see the beauty under water."



She swims around me again. I am much more curious now than afraid.


Her eye seems to pierce into my soul. We connect in this salty environment. The questions keep coming from both of us. We talk for a couple of hours. She is pregnant and looking forward to giving birth. She asks about the snorkeling equipment again. She never knew that humans could not breath under water. The sun is setting and I bid her farewell until tomorrow when I will return for another chat. She states she will be here. Off she swims, a fin exposed.


I return after work the next day. Most of the evening I research sharks on my computer. They have been here on earth since the age of dinosaurs. I never thought much about how smart they are. Something appears different about this one. I call her Mobette Dickinson. She is a female Moby Dick after the whale in my favorite book. Even though she is a shark, she is quite impressive. Dickinson is the name of my favorite poet, Emily Dickinson and happens to be my last name also. I keep all of this to myself. I am not sure anyone would believe me.



I put my mask on and a wet suit. Today is chilly. I swim at a leisurely pace out into the ocean. Mobette is there waiting. She turns to view me and I hear her laugh at the wet suit. We chat for a couple of hours about the feel of the ocean, fish and boats. She admits to me she likes to charge a boat to see if she can cause it to capsize. I laugh silently to myself even though this is not funny. I remind her she terrorizes boaters and she listens to me. I admire her willingness to learn about humans and anything that is new to her.


I return home and remove my wetsuit. There is a knock at my door. I open my front door to see my favorite marine biologist standing there.


"Ms. Dickinson, I am Dr. Edwards. I would like to speak with you about your snorkeling with the Great Whites. Any information you can share with me would be helpful in my studies."


I offer coffee and cookies and Dr. Edwards sits on my living room sofa. He appears to be nervous.

I compliment him on his interesting lectures which I attend when I can. He nods his head in thanks but begins discussing the sharks.

"You snorkel almost every day and I notice you and Greta swim together."

"Her name is Mobette Dickinson. It is a long tale why I call her by that name. She is quite the character. I enjoy her company."

Dr. Edwards sips his coffee.

"Is that wise? Great Whites can be aggressive. Greta or Mobette, is often seen attempting to knock over small boats."

I let out a laugh.

"I told her to stop doing that. She has promised."

The marine biologist puts the cup of coffee down.

"It sounds like you have a good relationship with her but I do not know. Do you think it is wise to snorkel around her?"

"I am sixty-eight years old and I have been in much more hazardous situations. Snorkeling allows me to enter another world. The sea has so much to teach us and obviously we have been mistaken about sharks."

The marine biologist bites into a cookie.

His face has a frown.

"Some sharks maybe more intelligent than others. Nuclear waste is being consumed by fish who are eaten by sharks. This is causing a highly developed brain function and all over the world there are encounters with intelligent sharks. There is a shark off the coast of Australia who pokes a computer with his nose."


I gulp my coffee and refrain from laughing.


"So smart sharks may take over the world and I am sure it would be primates. No planet of the apes, planet of the sharks!"


I turn and face one of my plants.


Dr. Edwards stands up.


A school of hammerheads are in contact with aliens. They speak telepathicly to the aliens. The aliens believe the sharks are the dominant species on this planet.

I do not know how to respond to all of this except for a hearty laugh. I stifle the laugh and remain serious.

" I am against dumping nuclear waste but we reap what we sow. Did anyone think there would be consequences to this harmful action?"

"It is too late now and we will have to deal with the sharks differently. I am very fond of them and want humans to have a good relationship with them."

"I agree with you and if there is anything I can do, I am here for you."

Dr. Edwards walks to my front door and bids me good-bye.

The next day after work, I return to the waters of Mobette Dickinson. I want to talk with her about this alien situation but do not get the chance. An enormous bull shark swims towards me and I pray a silent farewell to the ocean. Before I can finish, the bull shark swims by me and heads out to sea. He is swimming away from Mobette.

My salt water companion faces me and is happy to see me. I am grateful for her protection and I snorkel around her as she laughs at my mask. I hesitate to discuss my conversation with the marine biologist but realize there are many more snorkeling days ahead of me.

Mobette talks about her new child arriving soon and I tell her stories about my grandchildren.
We swim until dusk when I return to shore and she seeks food. I stand on the beach with my mask on and watch the ocean for a long time.