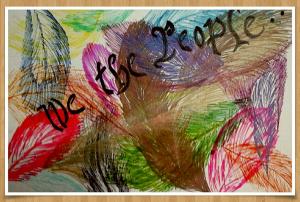 Once Proud we were to be the "Melting Pot"
along the way we have forgotten
Immigrants brought us - leaning on ship's bow
to seek a better life-to freely grow
to have our individual goals to reach
and respect the differences of each
battles fought and legal brawls
demanding freedom for us all
France gifted us Lady Liberty
with arm upheld so all could see
our shores were such those could be free
to seek a life of opportunity

We've made grave errors in our land
stole people from their world with chain bound hands
drove Natives off their first claimed grounds
and now we dare to halt the pound
of the knocking at the door to come in?
I'm saddened.

We've forgotten who we are
Our respect diminished near and far
We, the people are supposed to be the number ONE of nations
NOT the judge who picks and chooses who gets rations
But ONE nation, under God, united
I hope this turmoil soon is righted
Because now, things simply feel wrong.
What if Canada planned a wall quite strong?

What? A promise to make this country great?
We've been great for some time (or so we thought)
We, the people might debate
for what have all our Veterans fought?
Our Already Great United States of America.

Author Notes
I am so confused about how a country that originated as immigrants from all walks of life can shut people out. I realize there are burdens to assume by letting people in, but we are all here because someone daring and bold sought a better life for their family. When I see diversity in a crowd, I see beauty, that we have become truly a representation of the world. I know not all agree, but why can't we combine cultures and stir the pot, taking bits and pieces to create a Masterpiece?