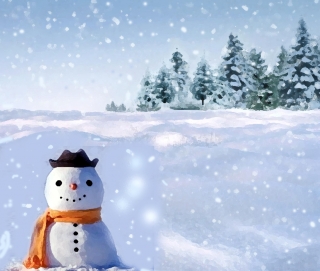 White feathers fly freely
In the cold, winter sky
As I watch while writing words
about this winter wonderland.

The television news shows shivering swimmers
who jumped into ice cold, Minnesota lakes
for fundraisers and fun fellowship.

( I freeze just watching )

People pile on clothes and stand still for hours
in Times Square waiting for the ball to fall.
They go to hockey games, football tailgates, and Rose Bowl Parades.
People celebrate outdoors during winter holidays.

My dogs walk quickly, "cold Momma," as they lift
Their cold legs on white winter snow. My feet go
Da Dum Da Dum like iambic beats of adewpearl's poems.
.
I spy a snowman with coal eyes and an orange carrot nose
Watching us walk. The birds fly to the feeders for a fruity snack.
Lola Blue, my Husky, jumps up to scare the sparrows.

Temperatures dropped to minus 21 for days.
I shared the shoveling chores with my spouse.
Somewhere under the snow my tulips and lilies sleep.

Fragrances float in my kitchen as the furnace kicks in
Warming up my cold hands and feet.
My dogs love their peanut butter sandwich treats.

I sip on green tea with honey and lemon and check on dinner.
Red, sweet and white potatoes steam with carrots, celery and onions
Into mouth watering lamb stew. Green beans simmer slowly.

Homemade bread goldens in my oven
As I set the table for New Years Day.

I journal my reasons, resolutions and revelations
of my fitness goals to boast
Nutrition, learn new exercises and fellowship with friends.
I hope to drop belly fat, be fit and find my abs.
My sessions start soon.
( I'll share our stories with you.)

I spy a regal, red cardinal sitting in the evergreens.
He looks like a gem sparkling in the snow.

Such is a life of an empty nester,
playing with poetry, and celebrating life.