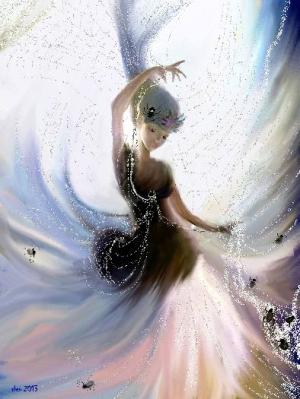 Shed a tear for the spider,
the fly got away--
The web torn to tatters
in a terrible fray.
So that tireless weaver
stitches and mends
its elegant pattern
of love and revenge.

And still the fly hums,
and bangs all about,
the small black reminder
of a spider without;
an erstwhile victim
reliving the thrill
of being the hunted,
and dodging the kill.

The fly calls to the spider,
"You tried and you missed,
I'm a little bit better
than the others you've kissed!"
In response, chides the spider,
"Oh, was that you?
My victims are many,
my lovers are few."

As darkness descends
the web disappears,
and the pregnant twilight
fills with hunger and fear.
And just like the kitten
in its saucer of milk,
the wings of the fly
twist into the silk.

Gracefully dancing
to those strings being struck,
the spider descends
to measure its luck.
The fly, all cocooned,
looks up and begs sweetly,
"I'm already ruined--
destroy me completely!"

"Maybe I'll eat you.
Perhaps I will not.
I haven't decided
what I'll do since you're caught.
Just rest assured
its out of your hands,
so just stick around--
don't spoil my plans."

Thus ends the story.
Pray tell who am I?
Some say the spider.
Some say the fly.
Did I break free of the web
to just dive back inside?
Or did I wait quiet
to safeguard my pride?

Am I the one choosing
the flesh that I feast?
Or have I been chosen
by some beautiful beast?
Did I fashion the web?
Was I caught by surprise?
Or is Love the black widow--
in beauty's disguise?