Warning: The author has noted that this contains the highest level of violence.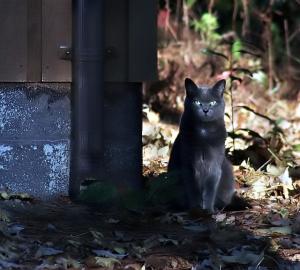 It appeared one night, balanced on my windowsill, it's thin, pink tongue running along its black paw. It paused, looked up, and its uncaring, ice cold eyes stared straight at me. My mouth dried, contorted in a silent scream. It stared at me for a moment, unblinking, before disappearing into the night.

Don't get me wrong, I normally love cats. That cat, however, was not your average cat. I awoke later that night to find its icy eyes wide open, extremely close to my face. Its body, weightless like a ghost, sat on my chest.

"Child," it hissed. "I have chosen you. You must feed and nurture me, or else I will gnaw the flesh from your bones."

"Yes, Master," I whimpered.

The cat sat on me, watching all night, until morning came.

"Danny, time to get up," I heard Mum call.

Meowing, the cat headed to the kitchen.

"I see you met our new cat, Pom Pom," Mum said. "Be a dear and give him some milk."

I splashed milk into a bowl.

"Good slave," purred Pom Pom, lapping at the creamy liquid. "You may go."



Writing Prompt
Write a short flash fiction story between 100 to 200 words based on the themes specified in contest details.