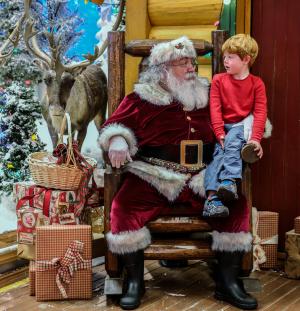 Dear Santa,
Remember me? It's Little Jimbo, and I sat on your knee
next to last year's tree. Later, I got sick, and hurt so
bad. Momma cried, and Daddy looked so sad. The doctor
saw me next day, shook his head and walked away.

Jimbo has leukemia, the doctor whispered to my dad.
There is nothing I can do, and I feel so sad. As he
turned and walked away, I heard my dad say, "You can
pray." My mother up and cried again.

I seemed to get weaker day by day, and I prayed to Jesus
to take the pain away. He sent an Angel down for me,
and I'm up here in Heaven gonna help decorate the Holy
Tree. I can fly to the top now.

Please, Santa, ask my little friends not to cry for me, and
remind 'em all that I'll have no earthly tree. Of course,
you know I'm writing from up above, and it's signed:
Little Jimbo, with all my love.

P.S. And Santa, before you deliver all the toys, and such,
to the poor little kids that don't have very much. Round
up all the toys you had for me, then divide 'em up, and
put 'em under their Christmas tree.

I joyfully wait for that Holy night, when the Star of
David shall shine so bright. Oh, I'll be there,
just you wait and see. I'll be the Littlest Angel
in the Christmas tree.

With all my love,
Little Jimbo
Author Notes
Far too often we tend to take for granted the pain and suffering our little ones endured before becoming an Angel of God. No child's death is too insignificant to remember when their life was taken by leukemia, or an incurable illness. The memory of their strong will to live and yet, knowing that their final earthly moment is inevitable, shall remain etched in my heart forever. As always, thank you for reading my work. Best wishes for a Merry Christmas, and Happy New Year. Thank you, Danrae, for the awesome artwork.