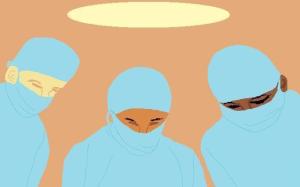 "Did you hear that?" she screamed to God.

" We're losing her, get out now," is what she heard.
The words uttered by the anesthesiologist were loud and clear absorbed by her mind in its drug- induced catatonic state.

She lay on the sterile table unable to move or shout a reply to what she heard clearly. She knew she wasn't ready to die. The ominous message from the medical team performing a routine catherization could not be true.
"Did you hear that?" she summoned God again. Then nothing, everything went black.
Waking up with tubes in her nose and hooked up to machines she couldn't name, she realized that she was alive.

"Did you hear that?" she whispered to God. "I'm breathing and living," she cried out in praise.

"Did you hear that?", my thanks to you for watching over me and waking me up to continue my journey of faith walking with you.



Author Notes
During a routine procedure, while undergoing surgery, I heard those horrifying words, "We're losing her, get out NOW." I heard but was helpless and couldn't tell them that I wasn't ready to die. My family had waited for hours when I should have been in the operating room only about thirty five minutes. The terrors they must felt during the wait are unimaginable. I survived and do remember pleading with God. He heard!!!! My daughter said,"Mom, you died on the table and they brought you back." I told her in no uncertain terms," God brought me back to you, hon." "Do you hear that everyone?"