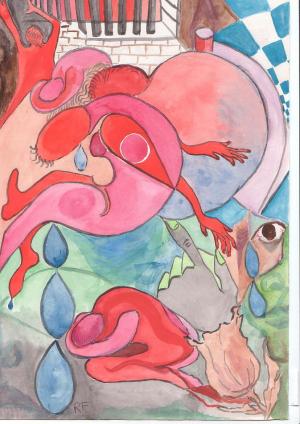 I am writing this as my nine year old niece Gwen finally falls into a fitful sleep. She is autistic and has been staying with us since Saturday night. Mom and dad are on vacation three hours away.

Tonight she started about eight o'clock to have a panic attack. It got so bad that we finally called her mom about nine. It's eleven now and she finally has drifted off to sleep. I felt so helpless as she paced and cried. As she held the trash can heaving. She doubled over clutching her stomach suffering from panic induced vertigo. Through it all mom's calm voice was all she seemed to hear. She wanted her mom's physical presence but barring that her voice. Mom will know what to do.
Mom was all she wanted.

Isn't that the way it goes. I remember when I had my last surgery. It was serious and all I wanted was my mom. Of course my mom had just passed away a few months before so she was no simple phone call away.

I've come to rely more heavily on my Heavenly Father at those moments of panic. Moments when you don't know what to do and there are no warm hugs or snug laps to seek comfort in. I have learned to seek comfort in prayer and in God's words to me. I have learned to trust in His wisdom. God will know what to do, He is all I need.

When my world spins out of control He is there, a prayer away. At the scariest moments in life, like when a nine year old is crumbling in panic and I don't know what to do.


Author Notes
God speaks through many things in life. This is one of those times.
© Copyright 2018. sandy montgomery All rights reserved.
sandy montgomery has granted FanStory.com, its affiliates and its syndicates non-exclusive rights to display this work.