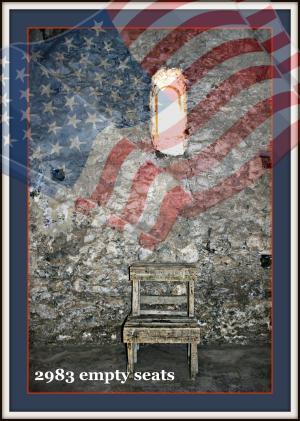 "A Salute to our Heroes"
For Veterans Day, November 11, 2017

**************

"I'm sorry," I yelled! Down the ladder we scaled,
we fought along the pathway of hell and yet,
Ole Glory ruffled in the breeze.

We fired our weapons until the barrels were red,
some stumbled, fell then cried, "I'm sorry! Gotta
go now." Ole Glory said, "March on!"

In the pitch of night, by camouflage light, we made
our footprints then moved on. We bled, our
uniforms were red. Ole Glory said, "Wash em!"

When our guns were silent, and the smoke had
cleared away, we walked along the body parts.
Ole Glory said, "I'm sorry!"

A bugler sounds TAPS, and it echoes across the
Hallowed Grounds along the headstones of our
brave men and women. Ole Glory salutes!"

They sanctified their love of Country, thus resolving all
doubt and making immortal their faith in America,
as they died in the folds of Ole Glory.

Others shall serve tomorrow, thus reminding us of the
awesome power that flows, when we are united
together. Ole Glory whispered, "Amen!"

*********


A "Salute," to; avmurray for the Artwork!

Author Notes
Oh, yes! We beat the drum and clashed the cymbals. The blood and guts of it all, "Is etched on my mind!" There are times even today, that I will beat my fist into the wall until it bleeds and yet, the demons bite at my heart. I stand on the Hallowed Grounds, then listen to a Bugler sound TAPS. The sound echoes across the headstones of our brave men and women, then against the Ears of God! "Hurrah!" I whispered, then said, "Goodbye," to them all. I shall be speaking to our Disables American Veterans on November 11, 2017, and shall dedicate this poem to them. Thank you for reading my work. Best wishes wherever you are.