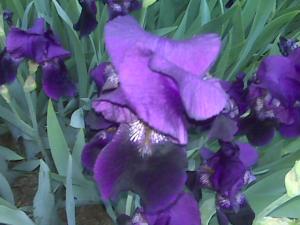 Beside my old Victorian home
where purple iris grow,
I sit to contemplate my day
and ponder what I know.
My pale blue room within these walls
is tranquil and serene.
Soft floral drapes shade morning light --
to me, it seems routine.
If only I could fly away
to worlds beyond the moon --
where I could play among the stars
and hear Sinatra croon.
Or sail upon a Viking ship,
flamenco dance in Spain,
ski down the slopes in Switzerland
and ride the midnight train.
But if I traveled round the world
and learned all I could know,
I'd choose to be right here with you
where purple iris grow.
September 2017