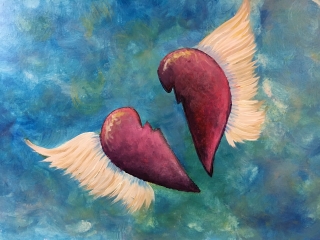 With my husband having cancer one has to stay positive at all times. Cancer is so cruel, It is a real killer, but we must never lose hope at any cost. They say sometimes even good can come out of a bad situation (that is the silver lining) to overcome a rough patch.
Sometimes some miserable things happen in our lives but we have overcome them one way or another.
We have overcome so many obstacles and things for us haven't gone according to plan but we have not lost our faith.

We met 52 years ago on his birthday our paths crossed that first day we were like oil and water and we were as different as night and day. Yet, we became fast friends, lovers, and husband and wife. And we are still here for each other. Life always wasn't easy and at times miles separated us, but through it all we have kept that bond.

It took multiple health issues to give us the push we needed to take a leap of faith. If we hadn't had the dark times, life may not have become amazing as it has. Early on I made a commitment to focus on the positive. People who know me know that I am always looking for the silver lining to cure the cancer that is stealing my husbands life.

I have learned to take care of my husband and his needs. Yes, I was angry, hurt and scared, when they diagnosed him with stage four cancer, it is terminal and no cure. We've learned to get up every morning thanking God for allowing us to still be alive to meet the coming day. But the sad reality remains he is still going to die.

As we go to chemo therapy we see others that are stuck in the same cycle as us. Smiles are rarely seen and the sadness in their eyes bring tears to my eyes. The vast majority of them are like us are unable to change their fate. I can assure you the pain and suffering doesn't go unnoticed by everyone in the room where they all gather for treatment.

It breaks my heart to see such suffering,especially knowing they are living on borrowed time too. We ask ourselves, why is this happening? Looking into their faces all we can see is the reality of pain and suffering. What can we do to bring them hope? For the most part there is no one to turn to for help they have little chance of winning the battle.

For those that can become cancer free, I pray there will be many more who can experience this miracle. Those that become cancer free have struggled with the pain and suffering for many years and know what it is like day in day out to struggle just to stay alive. Many have had their cancer return time and time again. Then licked it due to new technology and are totaly free.

Having no chance of recover is stage four cancer with no radiation, or surgery to stop the spreading,only chance is chemo to keep it under control. They cannot pinpoint how long one has to live when it gets this far. All we can do is make the journey and pray to God each and every time. Hoping against hope the cancer will shrink and be controlled with chemo. With the day in day out quality of life we can only hope for a miracle to be performed by God.

Writing Prompt
Write a poem of any type about something ugly (war, hate, cruelty) - but find the beauty (silver lining) in it.