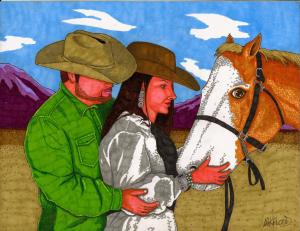 "It's never to late to chase your dreams!" Maggie remembered her Grandpa saying time and time again. She was geared up to go for the position of assistant editor. For years now she had been a roving reporter for her magazine covering the many rodeos. She finally came to the startling conclusion what she wanted to do with her life. When she heard of the assistant editors position she jumped at the chance. She was past due for something good to happen in her life.

It was now Justin's job to interview for the opening positions of assistant editor of his magazine. Justin in the past would not hesitate to pass up a woman applying for the job. He had come to respect women in the field these days. His past relationship with Maggie had set him straight on many things. The fact she let nothing get in the way of her dreams.

He had heard she was flying in for the interview so he looked his best in his western attire. She was so amazing, she could look so beautiful and yet so Vulnerable at times. "I was wondering if you might have changed your mind again?"

"I have missed you," he said meaning it. I do hope you will consider my offer and take John's place when he retires next week.

Maggie smiled up at him as he offered her a chair beside his desk. "I 'm thankful to you for having faith in me and considering me for the position." Especially after all these years gone by. Maggie told Justin, "I want the position. I've worked so hard to get where I am and I feel I can handle the job."

"I will give you one week to tie things up on your end,"Justin told her.

Later that evening no matter how hard she tried she could've get Justin out of her mind.to get to where she was, she'd worked long hours and sacrificed so much. Especially her relationship with him in her past. Back then her Grampa was the only one who had believed in her. "He encouraged to always never give up on her dreams."

The last time she'd seen Justin was when she went to the rodeo in Montana to compete in the rodeo. He was there with his team to cover the event for his magazine and she was on the cover. Neither of them had even considered a romance back then. She scolded herself for letting him slip through her fingers., what was she thinking.With her hectic schedule here she was asking him for the job of assistant editor.

The weekends were just as much a working day for her as any other days. She finished writing her article for the up coming issue and was proud to be taking on the job of assistant editor.

The week seemed to fly by, she was back at Justin's office. As she reached for the door it suddenly opened and there he stood. She was startled by his sudden appearance. His gaze took in her Jeans and western shirt and couldn't help teasing her. "I see you are still a casual dresser!"

"What are your plans for the weekend?" He asked.

"Well, beings as you are the boss it all depends on what you have in mind?"

She smiled and said, "Well then are you up to attending the rodeo in Montana this weekend?"

"I will understand If you are busy," she said.

A broad smile spread across his handsome face. "Your're on." he replied.

As they drove the next day after work they stopped at her place and dropped off his car and picked up her horse trailer. He backed up the horse trailer to the truck as she guided him. "You did that like a pro," she told him.

" It's been a while'" he said grinning.
"Is riding in the rodeo still a family thing?" he inquired.

He seen the smile fade from her face so he let the subject drop. He wondered what that was about but he let it ride for now. She'd talk about it when she got ready. "Sorry, I didn't mean to pry." Justin said.

Riding and writing was all she seemed to live for, he thought. More so than before, it seems when he knew her back then. She spoke the and startled him. "I better get to my horse or I will be late getting entered in the next event."

"Your're going to make a spectacular entrance on Brandy."Justin said.

She smiled back at him as she rode away, he felt his heart skip a beat. Whoa! boy easy does it he reminded himself. Folding his arms across his broad chest, he casually leaned against the arena. The women passing by were checking him out. His incredible body with wide shoulders, muscled legs ,and sinfully fitting jeans turned them on.

The crowd roared, bring him back to reality announcing Maggie as the winner. It was her third win in a row she was headed for the Nationals. As Maggie headed back and dismounted she heard good natured teasing from the men. Justin looked up as she dismounted and tied her horse to the rail. he asked,"Why the smile?"
"You still have the rodeo blood in your veins," Maggie remarked.
"I won!" She said all excited.

"I heard! Isn't it marvelous," as he picked her up and swung her around. Giving her a sudden kiss!"

Justin apologized,"I didn't mean to get so carried away."

"I'm the luckiest girl in the world," she said, breathlessly.

"We better get going as well it'ts a long ride back. We both have a lot to do before work in the morning.
Maggie was lost in the ought as Justin was driving back. What has she gotten herself into rekindling her old friendship with Justin?
Justin was worried he'd done something wrong she was so quiet. He finally asked,"You alright?"

"Fine. Thank you."

A short time later Maggie hadn't realized she had fallen asleep until Justin was shaking her awake gently they had reach their destination. They were at her home and he had already unloaded her horse and turned him loose in the corral.

"Oh dear, she said,"I must have been more tired than I thought."

He hugged her kissing her on her forehead and told her," you can come in late if you need extra sleep teasingly."

"What's our day look like tomorrow morning?" she inquired.

"We have an editorial staff meeting with everyone." Justin replied.

"I will see you then, and congrats on winning today." Justin chuckled.

Whistling to himself as he got into his car, he said," This is one dating romance that isn't getting away this time!"