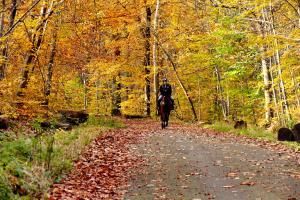 I remember..telling my horse we're home at last.We would be here for awhile. I pet him on the neck talking to him as I put him in his stall. I got him clean bedding and food to hold him till morning. Then parked my truck and horse trailer beside my Granpa's truck.

Would this place ever seem like home again? I had been driving all night,since I left the hospital. Maybe a good night sleep is what I need. It has been two years since I had been back home.

Next morning my Grandpa says,'"Well lookie here who the cat drug in last night."Grandpa said.

Grandma said," Let the girl be!"

So tell me Grandpa said,"Are there any young cowboys who have caught your eye?" Should I have to be prepared to run them off with my shot gun?"

"That cowboy you wrote Grandma about one of them?"Grandpa asked,with a twinkle in his eyes.

Looking at Grandpa out of the corner of my giving him a side glance I said,"0h, maybe one or two I might have my eye on."

The look on his face was priceless! "Don't worry, I said laughing.They are far, away,"

Grandma, she knew something was bothering me. "Are you feeling okay dear?" She asked me.

"No, not quite." Some rest and good mountain air will set me right again,"

I went over the window and looked out. It had begun to snow once again. "Is that coffee I smell brewing?"

My Grandpa fixed me a cup as I entered the kitchen. "Breakfast will be ready soon." he said. "Bacon, biscuits, home fries, and your Grandma's famous strawberry jelly."

"Who are you and what have you done with my Grandma?" I teased.

As if on cue Grandma entered the kitchen. She said,"0ld fool wants to show you he can still cook."

"I have to admit it, Grandma says,He knows his way round a kitchen."

"Wow!"was all I could manage to say stunned."

Grandma said."what brings you home?"

"How did you get that long scar on the side of your face? The one you been hiding with your hair over one eye?"

I was mistaken for the wrong girl by a drunk. As I was going to the hotel dining room for coffee. When out of nowhere he grabbed me from behind. He muttered his girlfriends name, cutting me, beating me, till I was unconscious. He left me for dead, lying there in a pool of my own blood unconscious.

I didn't know what had happened for days afterwards. Not until I woke up,not knowing where I was. They told me I was in pretty bad shape shape, when they brought me in. They thought they had lost me several times when my heart stopped

All I remembered was,I was going for coffee at the hotel dining room. The experience put me in a state of shock. They caught the guy and put him away for good on the three strikes program.

"I was living in fear till they caught him. All I wanted to do was hide my face from the world."

I told them,during my recovery,faith ,kept me strong, hope ,kept me going, and the stubbornness ,of not giving up, The determination to live kept me alive. My hands trembled as I remembered that day,

"I told the nurses I'm sure I have a few good years left." I don't think there is any red to be worried.

The doctor said." I could go home,if I had some where I could go to get some much needed rest and recover my strength."

"I'm not home for good, you know. I'll be going soon as I can get the okay to ride again." I have to make up for the time I have lost getting back on my feet.

Grandpa had tears in his eyes when he hugged me and said,"Nothing matters now except, that you're alive and you are safe with us."

"I am so glad you came to stay with us," Grandma said.

"I am,too" I told Grandma hugging her.

The day went quickly as I helped my grandparents with all the cores. I went out to the barn and took my horse out of his stall for awhile. He was happy to stretch his legs and listen to me assure him everything was okay. I gave him a good brushing after I walked him for a bit. As I left the barn the wind had started to pick up. The chill of the cold air was enough to force me back inside the house to get warmed up.

It had started to snow, as if possessed swirling this way and that way across the barnyard.Covering all my tracks removing any trace that I had ever been there. It was late according to the hall clock as I headed up to go to bed.It was after midnight when I finally got settled in for the night pulling the covers up against the cold.

I laid there in the dark, listening to the sounds of the old place. There were no sounds of anyone being awakeI finally drifting off to sleep. I was up early checking on my horse and feeding Grandma's chickens and collected the eggs.Making sure I locked the chicken coop.

As I walked back into the house Grandpa was already up. He said,"I have been waiting to you to get up.I thought you'd be sleeping in."

"Not hardly," I said. "This country girl is up with the chickens."

"It's to cold to be outside for very long." I told grandpa.




Writing Prompt
Begin your non-fiction autobiographical story or poem with the words 'I remember...' Complete the sentence conveying a moment, an object, a feeling, etc. This does not have to be a profound memory, but should allow readers insight into your feelings, observations and/or thoughts. Use at least 100, but not more than 1,000 words. The count should be stated in your author notes.