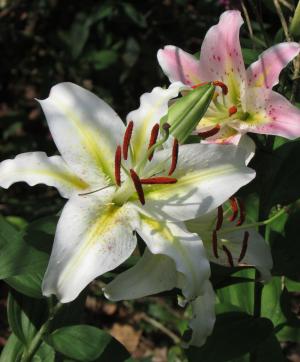 I distinctly heard a lily crying. I went in search of the tiny calling voice it was barely above a whisper. What I discovered was a lone lily hiding in the corner. It must have gotten pushed aside because it wasn't doing good. It needed a lot of attention and fast or we'd lose this beautiful specimen of a lily. It was a rare specimen and would be worth reproducing it or crossing it with maybe another in time to come.
Years back my daughter in law gave me a big huge planter and it was filled
a Lily just beginning to grow. It was her dads pride and joy. Since then he has passed on over to a happier hunting ground. She had given us the lily
to take care of.
There sitting all by itself was this delicate lily. It was struggling trying to keep its faith in God to grow strong on the limited faith it had going for it.

It seemed at first the Lily was trying to pull a fast one on us. But there really was something wrong with the little guy. He was really going to die if it didn't get our attention soon. I moved it to the end of the porch where there was more sun and gave it fresh fertilizer and water and fluffed the soil a bit to help perk it up.
There was a bunch of whispering going on one afternoon, I hid behind the bushes and listened into the conversation. It went something like this.
The lily was carrying on a conversation with itself.

What is wrong with the one legged man I call our daddy? He used to sit out here on the porch. He'd talk to me and give me a shower when it was a hot day. Feed me all the fertilizer to grow strong and healthy. I would produce the biggest blooms for him. It is now different.

Now I hardly ever see him except when he has to go to the doctors or hospital. Even if he comes out he doesn't seem in a good mood anymore or chat with me like he used to.

Maybe I should maybe ask momma what's wrong? She likes me and does talk to me maybe I could hint to her that I was wondering and worried about him. Okay I will ask her this afternoon.

So I called out softly as I entered the porch with the watering can. I stood there a moment in a daze. Plant is now talking to me. I must have been in the sun too long. Okay, I will answer him and see if he does respond. Doesn't cost nothing but a few words right? If he doesn't answer then I will be looking the fool not him. Okay here goes.

Johnny ( I had decided to name the lily) said, "I am sorry to bother you, but I was wondering why daddy doesn't take care of me any more. Does he want me to up and die?"

He said, Tears dripping down his petals, "He used to sit and talk to me like he loved me and understood me."

"All I feel and see now is sadness and it is causing much pain. I have been loosing the will to survive by myself. Did I some how cause his sadness? Did I say or do something wrong? How can i help him and help me too? Did he ever think about giving me a girl lily to talk to? It would have been nice to have a friend or friends to talk to. It has been lonely here for me Johnny sadly said."

"Awe sweet dear do not fret, I will have a talk with daddy and see if we can get him to come out and talk things over with you. I will be, right back and in the mean time you go have some sips of water and fertilizer to perk your up okay?"

Jonny heard the wheel chair coming across the porch to the corner where they were waiting. Daddy said kindly, "I am so sorry if I have let you and momma down." Please don't die and go away, you are my pride and joy. I didn't know I was causing you all so much sadness and pain.

I will try to explain to you best I can what is wrong with me. This sickness I have is why mommy is taking the best of care she can of me. Remember when you had to be repotted because you all had bad things eating and growing on you, well it is something like that with people too. The bad stuff has to be cut away so we can get better again. I promise if you make an effort to hang in there and get well I will too so then we can get reacquainted with each other again. A lot is going to be happening to get you ready for the Christmas Bloom. Your pictures made it into the paper last year. Lets see if we can get published in the planters garden book this year.
We all agreed to agree we'd all give it our best and the next few weeks there was a new bonding with their daddy and mommy too. Who knew we were parents to all living things.



Writing Prompt
A houseplant is dying. Tell it why it needs to live.




Author Notes
Plants and animals have feelings too.