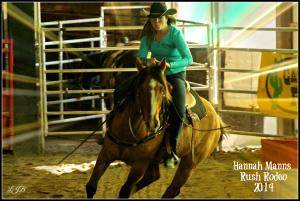 It was one of those days, I could feel it in my bones. Just when things start going well, everything that can go wrong usually does. It started out to be a great day, the sun was shining, no rain was predicted.

I learned a good lesson though if I kept thinking something will go wrong it would. Why? Because I let tiny things get to me messing up my own thoughts and confidence.
I was worried I wouldn't win.

Why? Because I wasn't 100% ready for the barrel racing like I should have been. I had no one to blame but myself.

I should have listened to my Grandpa, he once told me. " Sis (he used to call me) don't ever let yourself lose for a reason you could have prevented. If you do, you are setting yourself up to lose. Don't let things distract you and defeat you. "Take a good hard look at what you are doing," He said.

Then you will see things clearly what is standing between you and winning. Maybe you need to take some time and stop listening so much to others.

"Listen to what your horse has to say. Your horse knows what you expect of him and he will bring you to the winner's circle. He has trained with you over and over and is ready for every cue you give him. Even if you had no legs, he would win the race for you."

His words would be burned into my mind forever. When I wrecked that winter day and I had to start all over again. After losing my legs, Grandpa's words of wisdom got me through it all. I was devastated my legs were paralyzed from the waist down.

When I was finally able to get my head on straight and leave the Rehab to go home, I began to prove to myself I was capable of getting back up on my horse and make winning runs again. I really began to believe in myself.

Like Grandpa said, I could do anything I put my mind to.

Grandpa told people, I was too stubborn and I was determined I wasn't going to let life pass me by sitting in a wheelchair.

Sure, I won't win all the time, but that doesn't bother me anymore like it used to. I savor the win with pure pleasure, but I don't lose sight of who I am. I am the same person that went into the arena that came out a winner. I can accomplish my goals and become a winning barrel racer even though my legs are paralyzed.

My mom and Grandpa was my biggest fans. My Grandpa made saddles, special ordered for the rodeo. He and his partner Glenn made me a special saddle to accommodate my injured spine. I was able to ride, with little or no pain after I got used to how it worked for me instead of me working for it.

My horse was spooked at first, but he became one with the saddle. Since I couldn't move my legs he quickly picked up cues from me and the tone of my voice and hand pressure. I was strapped in the saddle as if I was in a car and two more to keep my back straight and aligned. They put a lot of love, sweat and tears into that saddle for me. After the accident, he continued to make me stop and think how miracles can come true.

My horse knew I loved him and he was so amazing he was always right on the money when it came to bringing it home. I would have been devastated if something happened to my two best horses the day of my wreck.

My second horse I used to ride, just ride around and check things out and if I need him in a pinch for a substitute horse he was right there gently waiting in the wings.

I think all in all it has brought my mom and Grandpa closer together and they are there for each other to lean on getting over the rough spots.

Never take life for granted because it can be yanked out from under you within a blink of an eye. They say, "God doesn't give you more than you can handle, but I wasn't one of his believers back then."

I learned to thank my lucky stars and be grateful for being allowed to carry on even with a debilitating handicap. Others have been able to come back into the rodeo since my accident, and I will pray for a speedy recovery for one and all. God isn't through with us just yet. He has a bigger calling for us to give hope and happiness for the handicapped.




Writing Prompt
"It was one of those days," Start your story with that prompt. It might be a day when you thought you did everything right, but it changed. It might be one of those days when life was amazing and you could do nothing wrong. Which ever day you choose live it in your story.




Author Notes
Struggles, challenges, determination, or some say grit pulls us all together as a family in the rodeo world.