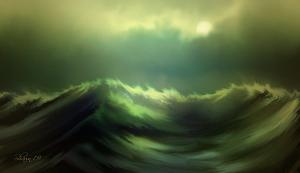 On sunny days, the wind embraces light.
It fondles scented buds about to bloom,
and whispers magic bound in full-moon night--
its tender flow can scatter all the gloom.
It captures quarrel 'mid the clouds and sun,
soon moves ahead to witness lonely shore--
then turns to steal the songs of birds that run
across lush fields with daffodils galore.
As nothing lasts for long, the wind too leaves...
alone, my soul now roams through desert sands.
Bereft of wind, my heart turns void and grieves--
a poet struggling hard - no word in hands.
No blankness lasts forever, thus I wait
for gust of wind again to grace my slate.
Author Notes
The wind of words is sometimes stormy, catching all the beauty all around...and then it becomes silent all of a sudden - leaving our souls longing to write in flow.

Thanks to MoonWillow for the beautiful artwork!