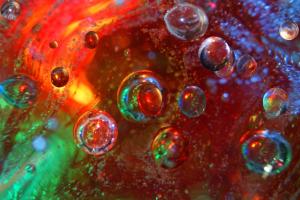 I stepped out of the space cruiser. The hangar of the docking bay was huge.

"Abigail!"

"Gramps!" I started in his direction.

In a few seconds, I was wrapped in his embrace. "How you doing, Princess? Sure is good to see you."

"Same here, Gramps."

He looked stern for a moment. "How are the studies? I promised your folks."

"Nearly finished. I took advantage of the travel time and did as much as I could on the way here."

"That's my girl." Gramps sighed. "I thought it would be one of the boys that would take an interest in space and the mining operations. Never guessed it would be my sixteen-year-old Princess." He hugged me again, then picked up my bags. I jogged to keep pace.

An hour later, we met in the sitting room. It wasn't as large as the one at my house, but it felt grand compared to the cramped quarters I'd endured during the two-week space cruise.

"So what are you most interested in doing while you're here, Abigail?"

"Hanging with you, of course. Maybe get your life's story? I know the generalities. Descendant of miners and deep-sea fishermen seeking a dangerous and physically demanding profession, adventure, that sort of stuff. Spent your entire inheritance on your first space mining ship and headed for the asteroid belt."

"All true, Abigail. The first few years didn't yield much; it's always a crapshoot when you explore asteroids. Some of them yield valuable assets, some don't. Fact is, I was broke and about ready to sell the ship and head back to earth." He grew pensive.

"Gold, silver, zinc, all sorts of minerals," I prompted.

Gramps pointed across the room to the window and the wonderful view into space. "Asteroid Blue 251 was the best stake I ever made. Changed my life."

I gazed out the window.

"Minerals do bring in money, Abigail, barely enough to cover expenses and string a fellow along. The real fortune is in the water."

He reached for the decanter then poured us each a glass of water.

"Yeah, I got lucky. The timing was perfect. People acquired a taste for exotic space water and were willing to pay for it. I hear they even have water-tasting parties. Connoisseurs claim they can tell the water's origin, how long ago it was distilled and even the orbit of the asteroid at the time it was harvested."

He took a long drink and smacked his lips. "Mm-mm."

I smiled. "All the levels of ambrosia. How do you determine the purity level?"

"I'll show you the processors later, but basically the extra virgin pure ambrosia is the first distillation, then extra pure ambrosia and so on down to ambrosia."

"So what did I just shower in?"

"That would be ambrosia. We save the lowest level for washing. Got to watch the profit margin."

"Felt good anyway." I laughed. "And this glass I hold in my hand?"

"Oh, now that is the good stuff, Extra Virgin Pure Ambrosia. Mind you, water is water in my book. Drink it, bathe in it, swim, whatever. It doesn't matter where it comes from as long as it is wet and clear. Best creation ever. No other liquid is so versatile or so useful. It's life itself."

I took a sip.

Gramps smiled. "Feel free to indulge, Princess. I own enough asteroids to produce space water for the next 200 years, and I just keep staking claim to more."

"Here's to Ambrosia." I raised my glass in his direction.

"To Ambrosia." He raised his glass high. "Water, the true elixir of the gods."





Writing Prompt
Write a flash fiction story that is between 300 and 600 words.

My preacher loves science fiction and I would like to print out the stories in the contest and give them to him.

No cuss words.
No sex.





Author Notes
597 words per Word

Thank you to simonka for the use of the artwork "New Galaxy"