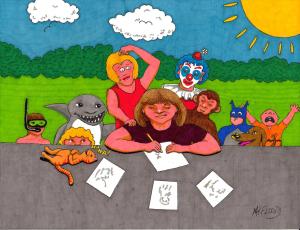 Solitude: My "Guilty" Pleasure …
My guilty pleasure is Solitude. Stealing away to quiet my mind and soul. It is my escape from the constant demands and barrage of complaints from the people, places and things that encapsulate my existence.

In this solitary space I find peace, solace and joyful communion with the lover of my soul; my constant companion and "FAITHFUL" friend. There HE raps me in HIS embrace and shelters me from the storm.

It is there that I find "INSPIRATION" and creativity flows. This is where I chart the course for my future and devise strategies for life's issues and concerns.

It is also where I lick my wounds and try to heal from the hurt and assaults on my psyche and my heart from well wishers and unwitting accomplices to the enemy of my soul. To quote my SAVIOR in the 23rd Chapter of Luke in the 34th verse: "Father forgive them for they know not what they do." (KJV)

Solitude is my guilty pleasure because I use it for protection and for the opportunity to refresh and replenish my soul.
Some consider it selfish because at those moments I am not "AVAILABLE" or at their dispense. But, to me it is necessary; for it is there, that I find "NEW MERCY" and "STENGTH" for the next day's battles.

Solitude: My "GUILTY" Pleasure …
Author Notes
My gratitude to MKFlood for the use of "Doris the Cartoonist" from FanArtReview.com.