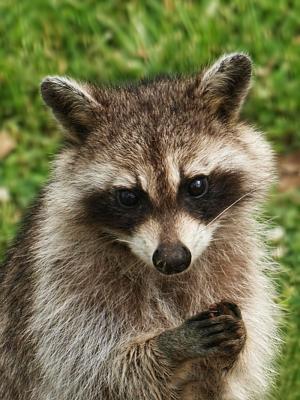 The neighborhood market looked inviting, with its open bushel baskets of gleaming Gala and Red Delicious apples. I had no use for the prior week's harvest, of some large, lumpy objects with thick, orange rinds. But apples were a promising change.

A matronly lady parked her car, exited, and adjusted her glasses. She stood so close to me, where I huddled behind a shrub, that I could have nipped her ankles. She peered at a hand-written sale sign.

"Buy nine apples, get one free!" She chortled, delighted to have discovered a true bargain. Once she filled up her shopping bag, I decided to nip her ankles after all. Her loaded bag dropped with a thud, and the apples rolled out. Sinking my teeth into one apple, I carried it off into the deep, dark underbrush for a juicy breakfast. I did not even feel guilty. It was the free apple!
Author Notes
Because even raccoons can be bargain hunters. Thanks to "willie" for a great raccoon photo. The program here on fanstory said this was 150 words in the main text. But manually counting it yielded a count of 148 words. I assume a hyphenated word is one word still. So I edited it to make a manual count of 150 words, minus the title.