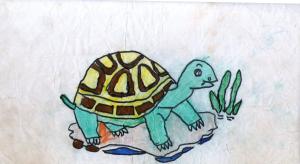 I am a little tortoise
and you can call me 'Nell'
You're sure to recognise me
as my name is on my shell

My owner thought it funny
to write my name in pink
If this were done to his house
I wonder what he'd think?

I haven't got a knocker
and I haven't got a bell
But should you wish to chat
just tap twice on my shell

My owner's name is Pete
and he's only just turned ten
I was a present for his birthday
sadly too - a pink felt pen!

From Egypt I came to Scotland
with many others in a crate
We were all squeezed in together
and were in a shocking state

Arriving in this new country
a pet shop became my home
Tortoises galore for company
but not much space to roam

Some had come from Turkey
and some had come from Greece
Many were really tiny
but others quite obese

One by one they're all sold off
but nobody's wanting me
I'm feeling sad and lonely
and just craving company

Many days have passed since then
I've gone into my shell
Just then a lovely family appear
and they like me, I can tell

So I pop my head out fully
I just want to be set free
I'd wink if I knew how to
Oh, please, please buy me?

Their son says 'may I Daddy?'
and I've now no competition
A worrying few minutes later
he has his Dad's permission

I'm shell-shocked when they lift me
and they appear so very kind
My heart would be truly broken
if they should change their mind

Being driven home, I'm on Pete's lap
He strokes my head - it's great
I feel so loved and wanted
It's a perfect twist of fate

I'm given the run of their garden
which is really quite divine
But for their neighbouring cat
one truly vile feline

He's black and fat and nasty
and knocks me to the ground
He likes to turn me on my back
then spin me round and round

He then runs off and leaves me
knowing I can't get on my feet
I'm on my back for hours
until rescued then by Pete

Pete's Dad reads books about me
that suggest what I should eat
It's always 'lettuce' or 'lettuce'
What's wrong with a little treat?

As a species we live a long time
perhaps to one hundred years
That's one heck of a lot of lettuce
It'll be coming out my ears!

We make good pets, I do believe
We're docile and quite shy
We don't bark and we don't shed
and we very rarely die!

And even when we pass away
for you that's not the end
Our shell can make a trinket box
a present for a friend.





Author Notes
Since I was very young I have always had a tendency to talk in rhyme. Many, many years on and nothing has changed. In recent times I have been writing poems for my grandchildren and for a few schools to be read out in class. I find it such a rewarding pastime.

I am from Scotland although, having recently retired, my wife and I now spend most of our time in Spain, in pursuit of the sun.