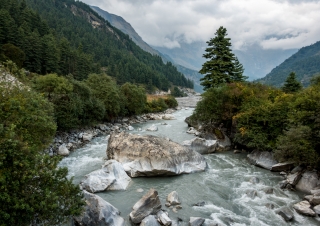 Sitting on a riverbank,
preparing for a morning
of trout fishing
with homemade flies,
listening to a white river
sing through my loneliness,
I wonder what remains.
I can no longer dance
on arthritic knees, twist open
a mason jar, or reinvent
myself one last time.

Growing up defiant,
more than a blank slate
imprinted with my father's fist,
more than Dad's DNA bending me
toward a whiskey bottle,
more than his belt beating the blues
on my sister's body. I vowed
to become a negative image
of my father's shadow side.

Free-falling into late teenage years,
the young boy curled inside me
was less than the innuendos
of immortality whispered
by a thousand stars winking
at my future on a camping trip
in Montana. Troubled, I tumbled
into infatuation with a Catholic girl
in the backseat of a Chevy,
drinking Boone's Farm
and clanking metal braces.

Swimming upstream to success,
husband, father, attorney, child
of God, but still a chip on my shoulder.
I suffocated my father's inner voice,
danced on the edge of the Abyss,
dared destiny to mess with paradise.

Suddenly life buckled my knees,
a flurry of hooks and low blows.
Gloves snapped flashed hammered
quicker than verbs, pounding sparking,
sixteen-pound railroad hammers
striking an anvil, jackhammers
breaking apart concrete, steel pistons
churning relentlessly in close.
Right left, right left, Cover! Cover! Cover!
Bloodlust! Right cross to the chest
stopped my heart.
The bell, sweet Jesus, the bell,
ears ringing, tasting blood, face
swollen, mouth parched, I thirst,
cried the Christ.

After the beating, I'm now left
lip-syncing my identity and roles,
lyrics written by trauma,
passing as Lazarus unwinding
grave clothes, unfurling a second chance,
secretly trying to figure out how to die again.

Who am I? Remains of a scrap heap soul
stepping into the shallows near the riverbank,
cool water embracing my waders.
The white river sings sacred over smooth weathered rocks.
I have been recreated again,
a blank slate
imprinted with grace.