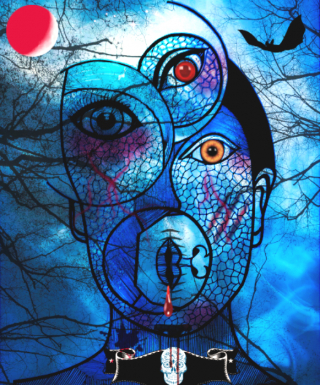 He's unlike the majority that dwell upon ground, living opposite of total say norms can we chat, rushes him just before the dawn to sleep a bat.

His home is like most people in house rooms, see bedrooms holding beds all untouched, it's not a strange thing, go low zooms in his coffin.

Person walking to you viewed image of a man, seeing a hairless face never shaves to reason, does acts to kill blood won a served breakfast.

The sun rises at home totally emptied in looks, flash tally live shadow the evening dally to see, changing into the dark in forms exploring land.

Into pits blend unseen dresses black, hunting each bend for red drink, trend sucking of blood, biting into teeth firmly goods stopping hunger.

No, soul is not as any other person you know, killing life to show foul deeds thirsting blood it, acts not buried low an unknown gate vampire.
Author Notes
Figures them disclosed as shadows to venture that are seen, viewing life throughout time recorded set man existence, lives beings among us.