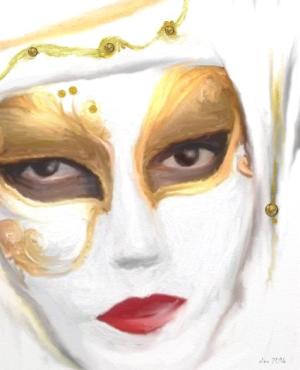 I'm so tired of working hard. What is my reward for working and giving my one hundred and ten percent? Am I making more than the average Jo? Do I gain respect and credibility?

No way Jose, we are equal as pay but as work, it's another story! No more Cinderella for me! I want to be... Ms. Lopez. Yeah, Jennifer, you hear me. I WANT YOUR LIFE!

Your life now, not the one that looked like mine at the beginning. I know hard work pays, but hey, no time for that. I'm in my forties I want to enjoy some sunshine and have all the freebies because of my name, I mean her name.

They say if you repeat your wish in a loud voice before bed, it comes true. So, here goes nothing! I wish to wake up as Jennifer Lopez.

The next morning, as I was looking into the mirror I exclaimed:" Damn, what a booty! And look at this pretty face. Hello, Jennifer!
Wow, look at me I'm Jennifer. Let's see if I got the freebies too."

I started walking around. Yup, definitely not my own one-bedroom apartment. I got a mansion extra dimension! I think the kids are at the boarding school so I can enjoy myself having a day at the spa. I never had mani and pedi before, so I might as well try one of those before the offer expires.

Look at that, I don't even have to step out of the house, I have the whole shazam right here. All I have to do is ring a bell. Oye mi canto. I know I am Jennifer, but still Gloria Estefan by heart.

Okay, let's explore the house. Last floor, huge terrace and... Wow, an infinity pool! I love that! Forget the spa I will park here. " Conchita, un jugo d'arancea pour favor!"

Okay, as long as I don't have to write I can mumble some all-inclusive resort Spanish slang. I know my drinks: Margherita, Pinia Colada, Aqua Fresca, Aqua Minerale, Cerveza. And the food, whether it is cerdo, Pesca, and polio.

I am quite modest, I don't want to spend any money, so I am happy with what is in the fridge.

Wow, the fridge is a mini restaurant! All you want and all you can eat is there. Let's check the fashion section.

Ms. Lopez, I mean I have quite a wardrobe and look at my shoes. Mariah, I think I have more shoes than you. What do you expect I am still popular.

Poor Jenny, the only thing she got from this exchange is my poor white privilege. Alonzo Les enfabt ou
travail!


Author Notes
The text contains broken Spanish and French. I hope nobody gets offended of my choice of subject. Please have some fun after all it's a piece of fiction.