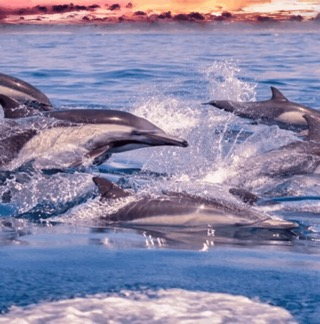 The DOLPHINS frolic in the reeling ocean
our hands are joined watching the commotion.
The SUMMER SUN emits its blinding rays
nourishing our bodies in many ways.

The SKY, a wide blanket of soothing blue
picture perfect through sunglasses' view.
The joy of nature's gifts is FOOD
for souls to quench and hunger elude.

Sun, dolphins, ocean, sky, in one
make up a summer full of FUN.
What better life than to rest
on beaches where life is the best.
Writing Prompt
Write a poem with any length or style using these words.

Food

Summer

Ocean

Dolphins

Sky

Fun

© Copyright 2022. Brigitte Elko All rights reserved.
Brigitte Elko has granted FanStory.com, its affiliates and its syndicates non-exclusive rights to display this work.