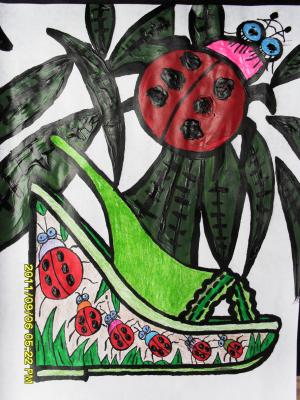 Now ladybugs are sometimes male--
let's get that straight, up front.
Then continue with this insect tale
and what they like to hunt.
Crop-eaters are their favorite food
which makes them friends to us.
There's nothing ladybugs denude;
they don't cause kids to fuss.

Ladybugs pretend they're dead
when predators abound.
They also hibernate (unfed);
for months cannot be found.
Quarter the length of a paper clip,
alive a year or two...
in a pinch, they'll gladly sip
the early morning dew.

In Middle Ages, plants I'm told
were killed by aphid swarms.
Farmers said they'd have to fold
and sent out prayer alarms.
Then Mother Mary ordered out
these spotted, flying lethals.
Farmers all began to shout:
"Hail to you, Our Lady's beetles!"

These beetles got their name that way
though "bugs" we call them now.
We think them kindly still today,
and with "lucky" traits, endow.