A conversation with the witch
A chapter in the book Aaron's Dragons The Witch is Back



Background
The dragons continue to grow. Aaron knows he will not be able to hide them much longer. Dylan must deal with civil unrest caused by an unwise king as well as the threat of invasion.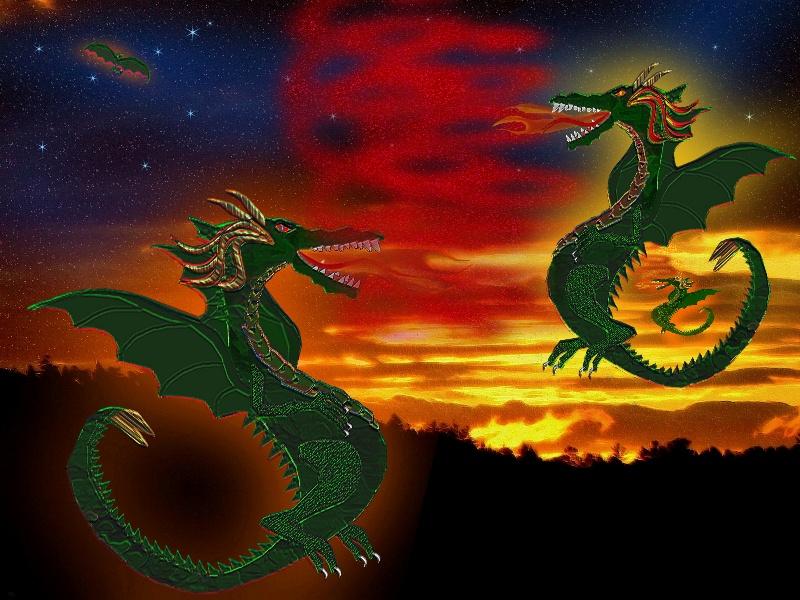 Dylan didn't return the next day, or the next. Aaron wasn't normally one to worry, but this time, not knowing what was going on was bothering him. He considered riding to the castle, but didn't want to leave Duane and the dragons undefended.

He sat outside watching the sun set, and Purple and Brown emerged from their cave. Brown and Sky were encouraging each other to fly, and Purple came to Aaron, sensing something was wrong. She climbed into his lap.

"Where's this lady who knows what's going on when we need her?" Aaron asked. "I don't know what's happening, and it's driving me crazy. I need to know what's holding Dylan up."

Purple couldn't answer, so she lifted her face to his and tickled his nose with a forked tongue. Pink flew over and landed beside him.

"Pink, where is she?" Aaron asked. "I need to talk to her. She knew we were in trouble at the lake, and I think she knows what's going on now. I need some answers."

"She sleeps. She is very tired, and there is much trouble. Aaron must stay here. If Aaron dies, the dragons will die."

"Did she tell you that?"

"Yes. She said we can't stay safe by hiding for long," said Pink. "She said you knew that."

Aaron did know that, and though he didn't say so, it troubled him. The dragons were growing, and so were their appetites. He also knew men were telling tales of the battle by the lake, and the cabin would not be a refuge much longer.

"Tell her I want to talk to her," he said.

"I will tell her," Pink agreed.

Aaron sat watching the dragons hunt in the twilight. He'd noticed a lot more mice recently. A lack of predators had allowed them to multiply, and it was good news for the dragons. Mountain had caught his second one and was bringing it to Black, who had yet to catch one. Black was thrilled, and pounced on the prey, gobbling it up.

The little Dragoyles had figured out how to hunt the mice as a team, but not how to share once they caught one. The first one they'd caught had escaped while they fought over it. They learned quickly, and there were no more escapes after that.

They all looked so content and happy, yet Aaron knew that what one knew, they all knew. Still, they were perfectly comfortable living in the moment, and if they were capable of worry, Aaron couldn't tell. He considered asking Pink about it, then decided not to. If they weren't worried, why change that?

When it was almost too dark to see, Aaron and Duane grabbed their blankets and went to bed. It took Aaron a long time to fall asleep, but when he did he found himself with Blue. This time he was not alone. He found himself surrounded by all the dragons, including the Dragoyles, Duane, and the witch.

"We've been waiting for you," she said.

"I couldn't sleep."

"I want everyone together. This way is easier," she said.

Green had perched on White's back, refusing to get in the water. Pink also swam on top of the water. Red circled overhead. Mountain, Sky and Purple swam easily, and Brown and the Dragoyles were in the water, although a little unsure of this new experience. It was the first time Duane had seen Blue, and he was delighted. Black, who found he could swim without pain, was ecstatic.

"Aaron," said the witch, "I know both you and Dylan want to talk to me. You must stay with the dragons for now. You can't have them following you to the castle. Dylan will be back."

"What do you know?"

"The king is dying, and there is much trouble. Dylan is not able to come to you now. People are fighting over food. They think the castle has more than it does. They're trying to fight their way in. There is talk of a wizard with the power to drop fire from the sky. The enemy thinks it's you, and they want you dead. Dylan knows the truth, but he can't tell anyone yet."

"You told the dragons they couldn't stay safe by hiding. Why?"

"Aaron, they are not human children. Would you have me tell them pretty stories? That could get them killed. After years of being over-taxed and overburdened, the kingdom is in trouble. Our enemies know that. They plan to invade and take it. What do you think they'll do to you and the dragons?"

Aaron considered this. "You must have something in mind. Otherwise we would not be here."

"That is true. Your friend has an idea. It could work. Wait for him to come back, and talk to him. If I can tell you when and where the invasion is coming, you will have a chance."

Aaron looked over at the dragons. Other than Pink, who had been nearby listening, they seemed to be having so much fun. Even Red tried sitting on her siblings' backs and testing the water. Duane was with them, and although he knew something serious was going on, he seemed content to enjoy the moment.

"Look at them," she said, seeming to pick up on his thoughts. "You might learn something. Do not let what will happen later spoil what is happening now. You have a week, maybe a little more. You can enjoy it."

It made sense, Aaron decided. If a week was what they had, for Duane and the dragons, he'd make it the best week of their lives.

"One more thing," said the witch. "Within the next week, you must let the cave dragon go. If she resists, you must push her."

"Purple? Why?"

"Aaron, think. Did you think you would keep them all forever? You can see how fast they are growing. Three months from now, the cave dragon's tracks will be clearly visible in the snow. Before that, she may have to deal with invaders' fires. She doesn't fly, so how will she manage?"

He had to admit he hadn't been thinking too far ahead. His plan had been to see they all hatched, and care for them as best he could, but the situation had changed so much. It was time for a new plan.

"Pink said you told her the dragons would die if I did," he said.

"I told her that their best chance is for you to win, and for them to help you. If the people see them as allies who helped drive of invaders, they will not want to eat them. I can't read the black one very well, but I believe he will join you. Have you considered what you will do if you lose?"

"No," said Aaron. "I would never go into battle thinking like that."

"Then you must not. I will talk to them. If they are thinking they will die if you do, I need to set them straight. I do not see you losing, but neither of us is so foolish as to think anything in life is certain."

"You knew their mother?" Aaron asked. "That's why you are doing this?"

"Yes. Does it matter?"

"It might. I may have to convince some men to trust you. They're going to wonder why you'd help us."

"I can understand that. They fear being betrayed. I've grown rather fond of you and the boy, but I have no love for the rest of humanity. But I have nothing to gain by betraying you."

"Revenge?" Aaron ventured.

"I could have had that two hundred years ago. I made a choice. The dragons were more important. That hasn't changed."

"I believe you."

"Good. Now, go enjoy yourself for a while. I will talk to this one." She indicated Pink.

Aaron was happy to go.

"Aaron not worry," said Blue. "Aaron win. Dragons safe. See Purple Dragon here."

"Of course, Blue. We will win. Purple will be fine. I've known all along I'd have to let her go. I just didn't want to think about it."

"At least we can all come here at night," said Duane, who had been listening.

"Yes. Purple has a bond with you," said Aaron. "I'm glad you were able to come here and meet Blue."

"Me too. This is fun. How long can we stay?"

"Until morning. It comes too soon," said Aaron.

It did come too soon. They awoke, and Duane started breakfast. Black stretched and flapped his wings. It was getting easier for him each day. Aaron thought he'd be flying by the end of the week, and he had mixed feelings about it.






Pays one point and 2 member cents.

Artwork by helvi2 at FanArtReview.com






You need to

login

or

register

to write reviews. It's quick! We only ask four questions to new members.



© Copyright 2021. Cindy Warren All rights reserved.
Cindy Warren has granted FanStory.com, its affiliates and its syndicates non-exclusive rights to display this work.