| | | | |
| --- | --- | --- | --- |
| | Fantasy Fiction posted March 13, 2018 | Chapters: | ...7 8 -9- |
An armored abductor takes Nara across the desert.
A chapter in the book Legend Chasers Hostage
The author has placed a warning on this post for violence.




Background
Nara is kidnapped by a strange man dressed like a knight. She tries to convince her captor that he has abducted the wrong person, but to no avail. The day just gets stranger and stranger.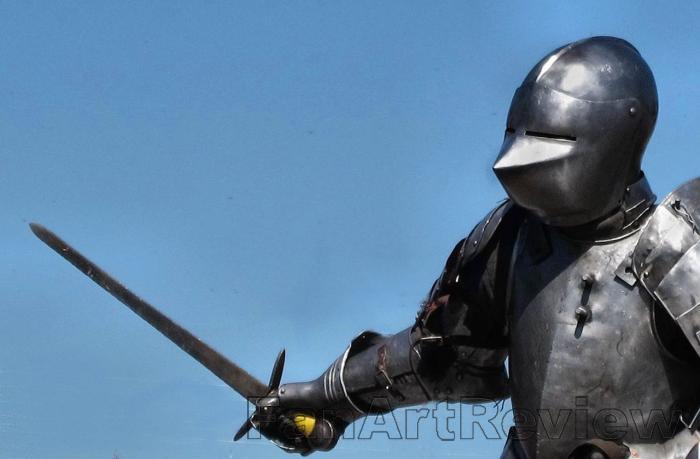 End of chapter 8:

Lightning lunged upward, but not fast enough. Nara felt him shiver as the arrow found a spot in his flawless white wing. He faltered, tipping his rider to one side and forcing her to slide from the saddle.

For just a moment, Nara felt as though she was floating in air in a sort of trance, but the sensation didn't last. She thudded at length into the wretched arms of her enemy.

Above her, Lightning did an aerial somersault, then flew haltingly toward the line of trees that marked the oasis. He was alive, of that, Nara felt assured. But her fate was not so certain.

Chapter 9 Begins:

For miles, Nara watched the prairie fly past. Browns and muted greens blended to form a nauseating camouflage blur. She was held firmly in the saddle by a strong grip and the fear of falling off the powerful red horse.

Terrified at first, Nara's emotions faded to numbness. Her captor hadn't spoken since abducting her, but he hadn't hurt her, either. Finally, she felt compelled to say something.

"Excuse me, Sir," she said. "I believe you went to a great deal of trouble to get hold of me, but I'm afraid, you've snatched the wrong person. I have no family to ransom me and just started working at the ranch a few days ago."

The man in the crimson robes shifted slightly as though considering her remark. Nara waited, the hot prairie air burning her cheeks as they streaked across the land.

It seemed, at first, as though she would get no response, but finally the man spoke. His voice was gentler than she would have guessed, almost apologetic.

"They'll come for you."

"They ... they who?" Nara was emboldened by the man's apparent lack of anger.

"The men."

"The triplets?"

"Yes."

"I hate to disappoint you, and I do hope you won't just dump me out here in the middle of nowhere, but those guys aren't coming for me. I don't really mean anything to them, not yet anyway. Yeah, I'm sure they'll call the police and all, and the Texas Rangers will probably get involved. I might even make the local news where they'll talk about how I'm a nice young lady and they don't know why I've been taken, but that's about it. I'm afraid your time has been wasted."

"I took you off a Pegasus horse," the man said. His voice was still sympathetic, but grew in intensity. "They wouldn't have put you on it if you weren't of great value."

"He was an old horse... there were other, much better ones there. I'm pretty sure that fancy black one Hank was riding can fly, too."

"They'll come," the man said, ignoring her remark, "and when they do, my brother and I will be ready."

"Whatever disagreement you have with the men at the ranch is between you and them, but if you think taking me will hurt them, then okay. Just tell me you've left the students alone."

"The kids are safe." The face, hidden by a helmet and visor, showed no emotion, but emerald eyes looked out in ernest confirmation.

"Last I saw, they were surrounded by Wampus cats," Nara said. "And I don't find that safe."

"There were only two cats and they're with us. And they're called Manticores, not, whatever you said."

"Wampus cats. That's what Riley, called them."

"Old Riley, I know him. He's quite the meddler, that one, but he was wrong about the cats."

"Still..."

"The kids are fine. I came for you, not them."

"And for Hank and his brothers?"

"Them, too."

Nara closed her eyes, hoping in doing so she could open them later and find all the unpleasantness had evaporated. Her attempt to escape to the country to heal, had just gone very, very wrong.

"Don't be afraid," the man said. Again, his soothing voice seemed incongruous with the situation. "I'm not going to hurt you."

"Where are you taking me, then?"

"To my home where you'll be treated as a guest."

Nara took a deep, dramatic breath. She searched for the right words. The man seemed gentle with her, but could the wrong words turn the tide?

"Guests are invited, not stolen," she said, loud enough to be heard, but gentle enough to seem docile.

The man nodded, but didn't respond. Nara let a little time and distance pass before speaking again.

"If you chose me on purpose, then why?"

"You're important to me and them."

Nara paused again, still searching for the right words.

"If I'm so important to you," she said, "then why don't you let me go?"

"You'll understand in time ... once you remember things. For now, be quiet and rest. We still have a long journey ahead."

"Doesn't your horse fly?"

"No, the Pegasus horses are loyal to Zeus."

"You mean to the mythical god or to my friend, Harry?"

The man didn't answer, and Nara couldn't think of anything else to say. She fell silent, and leaned back in exhaustion.

The man seemed to take her movement as a sign she was relaxing. "Good," he said. "Just take it easy. No one's going to hurt you."

Nara wanted to correct him and tell him she was far from taking it easy, but, soon drowsiness crept over her like a soft ocean wave, lapping at her conscious mind. She fell into a light sleep during which she was aware of the fleeing horse and the faint passage of time. Eventually, she awakened and looked around.

The ground about her had grown sandy, the plants sparser and more succulent. She knew they were in the desert, but where? A thousand questions churned in her mind, but she opted for a benign one.

"Who are you?"

"I'm Thanatos," he said.

"Thanatos," Nara repeated. Her heart skipped a beat as she struggled to breathe. "The god of death."

"You remember me."

"No, I've just met you, but I'm a history teacher and have studied Greek mythology. The character you're playing isn't a very nice one."

The man didn't reply, but stopped his horse in front of a boulder. He slipped Nara carefully to the ground and dropped down beside her.

"I don't play." Thanatos said. He took a staff out of a shaft on the horse's saddle and struck the earth beside the stone.

The ground shook as a crater in the dry ground creaked open. Nara gasped and stepped backward as though she could retreat from the shocking scene.

Slowly, a stone staircase became visible in the gaping hole.

"Come on," Thanatos said, taking Nara by the hand and guiding her down the stairs.

"Where are we?"

"My home."






A special thanks for the artwork, "Shining Armor" by Agreenr on FanArtReview.

The following is a list of characters:

Nara Baker: House Mother, History Teacher

Hank: Art teacher at the school. Middle child in a set of triplets. Nickname: Hades
Harry: Hank's triplet brother. Teaches science. Youngest of the three: Nickname: Zeus
Henry: The third, and oldest of the triplets. He teaches technology. : Nickname: Poseidon

Boarding School Director: Miss Barbara Eddins

Old Man: Riley Byrne - Handyman, storyteller, and reading teacher

Conner: Riley's older brother

Thanatos: Red Rider/god of the death


Pays one point and 2 member cents.

Artwork by Agreenr at FanArtReview.com






You need to

login

or

register

to write reviews. It's quick! We only ask four questions to new members.



© Copyright 2018. davisr (Rhonda) All rights reserved.
davisr (Rhonda) has granted FanStory.com, its affiliates and its syndicates non-exclusive rights to display this work.