| | |
| --- | --- |
| | Spiritual Poetry posted June 20, 2014 |
A lonely man laments the loss of his life-long love...
Graven Images
~~~~~~~~~~~~~†~~~~~~~~~~~~~



Upon a hilltop veiled in green,
beyond a valley, rarely seen,
an old man slumbers in his bed,
an unused pillow by his head.


The new dawn brushes skies in pink,
a gorgeous sight, so one would think,
as sunshine's shimmer brings the day
yet, quiet in his bed he'll stay.


~†~


The mantle clock chimes out alarms,
eyes open wide; his outstretched arms
remove it from its resting place.
The second hand retains its pace...


The old man rises, tired and sore,
from all the life that's passed before,
beseeches God to call him home –
whilst all the while, clock's ticking drones...


~†~


His life-long love of fifty years,
who dried his eyes and calmed his fears;
beloved wife, now laid to rest...
yet in the end, God knew 'twas best.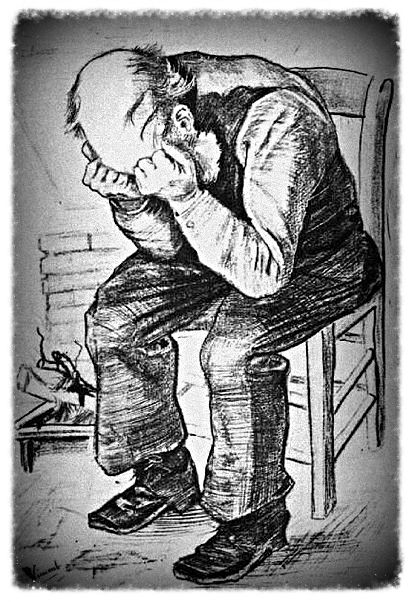 He lifts a whittled piece of wood,
one that he's worked on, best he could.
A tribute to his faithful wife,
carved from an image of her life.


~†~


He shapes the wood with loving care –
when finally finished, puts it where
he can remember— reminisce...
whilst dreaming of her honeyed kiss.


Out in the family graveyard, where,
his faithful wife — who's buried there —
his one true love in fifty years,
stirs quietly — yon mist appears...


~†~


This battered soul — with head in hands —
sobs mightily, right where he stands,
"My God, hast thou forsaken me?
My joy's confined to misery."


Whilst in the washroom, silent, still,
the mirror waits with time to kill
the clock, now on the dusty floor
tick-tocks away, just as before...


~†~


Staring back, his worn reflection;
haggard features, pale complexion,
look back at him with much disdain,
...he struggles to recall his name.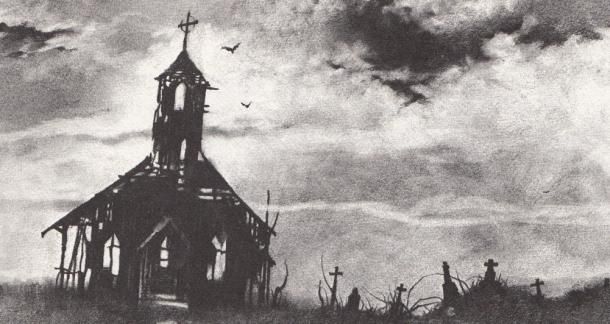 Out in the quiet graveyard ... there –
"Whence comest thou, oh icy stare?"
A wall of vaporous, murky gloom
lifts silently from musty tomb.


~†~


The old man sits alone, still crying,
white wisps caress his face, implying
that he stroll now into the mist –
this loving couple complete death's tryst.


The statue his hands carved with care,
sits silent on the mantle there;
two wooden figures rest inert —
both covered with fresh graveyard dirt.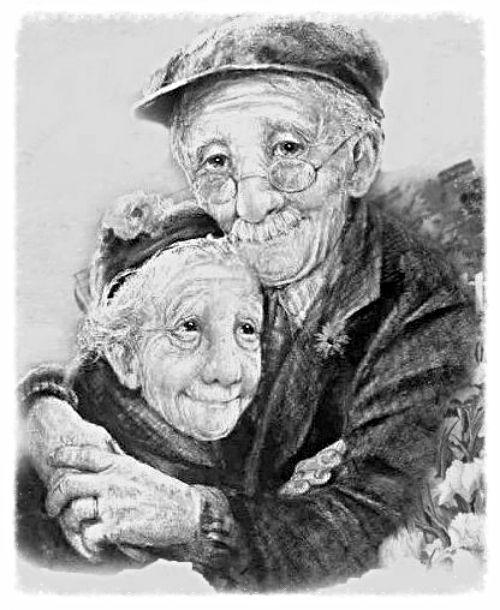 ~~~~~~~~~~~~

~†~

~~~~~~~~~~~~



Quatrain Poetry Contest contest entry




The phrase "graven image" comes from the King James Version and is first found in Exodus 20:14 in the second of the Ten Commandments. The Hebrew word translated "graven image" means literally "an idol." A graven image is an image carved out of stone, wood, or metal. It could be a statue of a person or animal, or a relief carving in a wall or pole. Abstract Asherah poles, carved wooden Ba'als covered in gold leaf, and etchings of gods accompanying Egyptian hieroglyphics are all graven images.

The progression of idolatry in a pagan religion generally starts with the acknowledgment of a power that controls natural forces. The presence of the force is then thought to indwell an object, like a carving, or a place, such as a mountain. The next step is altering a naturally occurring object, like a standing stone, a deliberately planted tree, or a carved Asherah pole and asking the force to indwell it. When the idolatrous culture has had time to contemplate the personality of the god, they then make corresponding physical images, such as a statue that looks like a woman or a relief carving that looks like an animal. Graven images can be either of the last two steps.

The spiritual progression is similar. People start with wanting something. In this case, the old man wished to be with his wife. His wish was granted.

Thanks for reading, and as always... Pleasant Screams!





Pays one point and 2 member cents.







You need to

login

or

register

to write reviews. It's quick! We only ask four questions to new members.



© Copyright 2018. Dean Kuch All rights reserved. Registered copyright with FanStory.
Dean Kuch has granted FanStory.com, its affiliates and its syndicates non-exclusive rights to display this work.