| | | | |
| --- | --- | --- | --- |
| | War and History Script posted June 11, 2013 | Chapters: | -1- 2... |
A Radio Script about a Private Military Contractor.
A chapter in the book A Business Doing Pleasure Scene 1, Striking a Deal.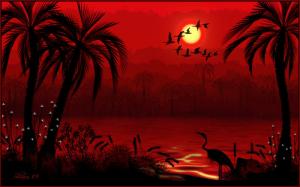 FX:
ORCHESTRAL INTRODUCTION. THEN FADES OUT...

HARRY:
(NARRATES). You know, there are two kinds of men who should be wary and suspicious of women-the shady businessman who has something to hide, because women can be loose-lipped, and the schemer, because women can thwart any plan that a man makes. Now I, Harry Logan, am both a shady businessman and a schemer, so perhaps I should avoid women entirely. But the trouble is, I just can't live without them. Sometimes life gets very complicated with business and plans, but when a woman is involved, it is always interesting.

FX:
MUSICAL INTERLUDE ... CONTINUES BEHIND NARRATION.

HARRY:
(NARRATES). In Baghdad, just after the Iraq war was over, I found myself in a very precarious situation, the age old one about finding a way to escape the rat race. I had a lucrative position as a Private Military Contractor, working for a rich Sheikh, but I was sorely in need of what I called a business partner. The authorities would have referred to it as a partner in crime. It was a stroke of luck when an old acquaintance got in touch with me to tell me that she had been transferred to Baghdad and needed someone with local knowledge to make her job easier. It was only part-time so I could use it as extra money while still carrying out my normal duties. The pay was good and I could ask for a few favours in return, so it was mutually beneficial... We arranged to meet.

FX:
SOUNDS OF BUSY STREETS, CAR HORNS AND SIRENS ... APPROACHING FOOTSTEPS.

HARRY:
Jessica! Jessica Smith, it's great to see you again!

JESSICA:
Harry!

HARRY:
How are you?

JESSICA:
I'm fine, Harry! What are you doing in Baghdad?

HARRY:
That's what I was going to ask you.

JESSICA:
Oh, me? It's my new assignment. What about you?

HARRY:
Business.

JESSICA:
I'm glad to see you. I could use a man I can trust who knows his way around.

HARRY:
Can you trust me? You could be taking a leap of faith on that one. I need a partner.

JESSICA:
Do you, now? Male or female?

HARRY:
Female.

JESSICA:
Dangerous job?

HARRY:
Maybe just a bit.

JESSICA:
Interesting target?

HARRY:
Very.

JESSICA:
Is money involved?

HARRY:
Yes, a lot.

JESSICA:
(AGREEABLE). Well, work can be quite boring. Who is the target this time, and do I need much of a wardrobe?

HARRY:
I'll tell you when we are alone. Let's get out on the Tigris. I hope you don't mind going on a boat.

JESSICA:
No, of course not.

FX:
MUSICAL TRANSITION ... THEN BEHIND NARRATION...

HARRY:
(NARRATES). I rented a boat and we floated slowly down the Tigris. The River Boat Pilot was a man I had worked with in the past and he could be trusted implicitly. She was a career CIA Agent, and she could handle herself in a tight situation. Those qualities would be needed on the job that I had in mind. She was also extremely beautiful, and it was this asset that I intended to exploit to its full extent. She had the realism and the sound business sense of a master criminal. In the river boat, she trailed her hand in the water and waited for me to tell her my intentions.

FX:
THE ENGINE OF THE BOAT SOUNDS, ALONG WITH THE GENTLE SLOSH OF WATER.

JESSICA:
Well?

HARRY:
Jessica, have you been briefed on Sheikh Hakun?

JESSICA:
No.

HARRY:
Well, he's the local Arab Sheikh; he has liberated some of Sadam Hussein's gold and kept it for himself. He managed to hold onto his palace, and he still has some valuable paintings, artefacts and jewels.

JESSICA:
And this is where I come in, I suppose.

HARRY:
Yes, that's very astute of you. He's an old friend of mine; I met him during the war. I saved his skin more than once and I work for him now.

JESSICA:
(SOUNDING ASTOUNDED). Do you actually have friends, Harry?

HARRY:
(SARCASTIC). Yes, I do. He likes me and places value on the service that I provide for him.

JESSICA:
But you are having trouble getting into the inner sanctum.

HARRY:
Exactly. I can't find out where he keeps his ill-gotten millions. I might be able to in time if I could get past Ahmed.

JESSICA:
O.K. so who is Ahmed?

HARRY:
Oh, a nobody, but he is a stumbling block when it comes to getting closer to the Sheikh. He is a monster. He is about six feet, seven inches tall and he is almost as wide, or at least he seems to be anyway.

JESSICA:
That's a big stumbling block, Harry. You have a massive problem there.

HARRY:
He's the Sheikh's bodyguard. He's killed several men who've tried to cheat the Sheikh... He doesn't like me at all.

JESSICA:
And that's why you need me.

HARRY:
Exactly.

JESSICA:
All right, is my target the Sheikh or Ahmed?

HARRY:
I want you to go to work on the Sheikh.

JESSICA:
Thank God for that.

HARRY:
I'll be your support on the job and try and distract his huge shadow. Your task is to get close to the Sheikh and find the key to his stash.

JESSICA:
I'll probably discover that he keeps it in Ahmed's pocket.

HARRY:
(LIGHTLY). No, I think that's where Ahmed keeps the Sheikh.

JESSICA:
(AMUSED). Oh! (PROFESSIONAL). Have you got a plan?

HARRY:
Of course I have a plan. All I need to make it come together is the Sheikh's lust and you, my dear Jessica.

JESSICA:
What kind of deal are you going to offer me?

HARRY:
I was thinking along the lines of sixty-forty?

JESSICA:
I am thinking more along the lines of fifty-fifty.

HARRY:
(RELUCTANTLY). Well...

JESSICA:
Fifty-fifty, Harry!

HARRY:
All right. Fifty-fifty it is.

JESSICA:
Fine. When do I meet the Sheikh?

HARRY:
Tonight.

JESSICA:
That isn't much time.

HARRY:
You won't need much time. He will be smitten with you as soon as he sets eyes on you. It's a done deal.

FX:
MUSIC BEHIND NARRATION...

HARRY:
(NARRATES). So that was that. When I had the stash in my hand, there would be time enough to inform Jessica that the split would be seventy-thirty. (CLEARS THROAT). She's a sensible girl. Business, after all, is business. That night I brought Jessica to the cafe that I knew the Sheikh frequented. He was there, all right, and so was Ahmed. We went directly to their table.






I would like to dedicate this to all who served in the armed forces and gave their lives in their devotion to duty. I would like to make a special mention of my close friends, Ian and Mark. Gone, but not forgotten.

Pays one point and 2 member cents.

Artwork by MoonWillow at FanArtReview.com








© Copyright 2018. Tomes Johnston All rights reserved. Registered copyright with FanStory.
Tomes Johnston has granted FanStory.com, its affiliates and its syndicates non-exclusive rights to display this work.