Here's that Fairy Dancer Poem mentioned last night
A chapter in the book Volume 3 Hyping Up the Hike For the Boys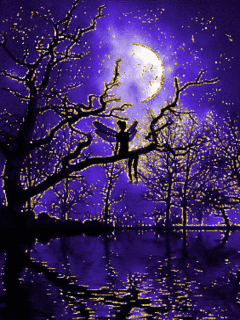 Hyping Up the Hike For the Boys

Sit down children, I'll tell you a tale

of high, high adventure and then

imagine together, as I regale

you all with the story of when

I saw the Fairy Dancer sail

across the canyon's armament...

Well, as you know, I love to cut

my canyon swaths alone,

while searching for 'I don't know what'

through all the snails and stones,

so no one else was there, yes, but

I know my eyes and bones!

I'd just completed tramping through

the staggering, stumbling creek,

when all at once, within my view

imposed a vision nature leaked.

I stared; 'twas all that I could do

as she cavorted with leaves

and mystified the merry, mad moon

that mocked the daytime's heat.

Her hair was ivory, stunning, clear,

and fell upon 'light-eyes'.

She pacified the atmosphere

that felt her floating by.

The canyon shook, with gentle care,

the dew from off the vines,

and all the stars that filled the air

awed, jealous of her shine.

She danced for all existence to see

beneath the canyon's artistry

and there upon the leaves she held a pose,

if only for a moment, then

began to pirouette again

and did a few on each one of her toes!

Where she crossed bright gardens rose,

and all the Earth rejoiced.

Fish stopped swimming, birds just froze -

teeming trees adored her voice

as she dropped tunes that no one knows

and moved in sync to the noise.

Such motion not the mystic sea,

with rage or elegance,

could hope to thrash about to be

as wistful at a glance,

and she moved more than energy

wherever she advanced.

As such it was my luck to see

the Fairy Dancer dance!

I don't know where she's gone to now,

but I believe she's there,

bombarding flowers down below

with shadows and ivory hair,

and wings of sand and simple things

as gentle as the air,

are out there somewhere harboring

her spirit. Now, don't be scared!

Put your boots on boys, let's go!

What if she's out by the falls?

What if she's daring the wind to blow

while you're sitting there slack-jawed?

Let's go, let's go, I think she might be

on down by the creek serenading the trees.



Poem of the Month contest entry




'light-eyes' is meant to imply actual light, as if little stars through which the Fairy Dancer sees just fine ;)

My wife and I have three boys, eight and under, and we live next to a canyon that we visit often.

Fairydancer's cool username inspired this poem, and the pic of a fairy she had up as well at the time, and her latest is cool too!

Thanks for the inspiration on this one Fairydancer.

And here's an oration from my page on youtube...www.youtube.com/user/xylok where I'm amassing more and more...


Thanks for stopping by! :)


Pays one point and 2 member cents.







You need to

login

or

register

to write reviews. It's quick! We only ask four questions to new members.



© Copyright 2018. Xylok All rights reserved.
Xylok has granted FanStory.com, its affiliates and its syndicates non-exclusive rights to display this work.