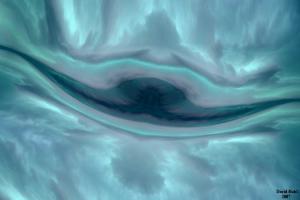 In my blissful world, hills adorned with
golden grass throw animated shadows across the ground.
Ancient ruins envelop my soul with wonder
as a breeze that smells of earth and
lilac cuts through the air.

In my blissful world I can forget my pain.
My sorrows cannot stalk me here.
the vivid sunsets cast an amber
glow across the meadows;
the cursed ghosts dare not enter into this light.

In my blissful world, blue-green rivers branch
through limestone canyons. As I wade into the
currents, my anger is dissolved. I am alone.
I am content.
My eyes reflect the stars.

As I watch the horizon stretch across eternity,
I know I will live forever.

When I am awake, my eyes bleed black.
Anger smothers my heart.
When I finally drift into sleep, I know my blissful world
awaits me.

And I smile
Author Notes
This is about a person who lives in a turbulent world, one that offers no hope, love or compassion. When they dream however, it is of the world they've always wanted, the world they've always imagined. Their blissful world.