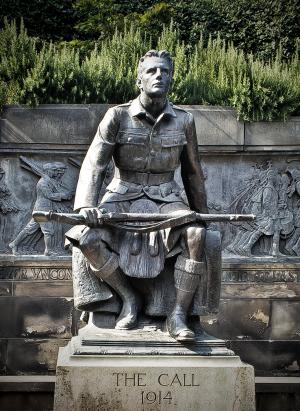 To Grandpa!
I dreamed of the life I almost lived and it was crystal clear. Therefore,
I'll talk of it here. Some events I actually lived are different and yet
I'll not linger there.

Making my earthly entrance, I nestled warmly within the security
of my mother's arms. Always hungry, I ate ravenously
and grew quickly.

Waddling on the sand, I built castles by the sea and shoveled
moats from one to the other. Sadly, I watched as the tides
took them away forever.

Hook-sliding into second base, I'm called safe then stand tall
and bow to acknowledge the applause from my fans. Oh, I
crossed home plate a hero.

Quickly accepting my diploma, I turn the tassel on my cap. I
offered warm regards to classmates as they turn their own--one
after the other.

Marching under the shadow of Ole Glory, I paid homage to our
heroes as a bugler sounded TAPS from across the Hallowed
Grounds. A "Salute!"

Reflections of the life I almost lived, become mirror images, as I lay my
frail body on the old feathered bed. Once again like in the days of
old, I laughed in a glad way!

Accepting my final moment, I lifted my hands toward Heaven. With
my left, I touched a vacant spot to rest my soul forever--and with my
right--the Face of God!
Writing Prompt
Many people talk about what they wanted to do with their lives... what they should have done, the lives they almost lived. Write a poem that captures this.
The Life He Almost Lived
Contest Winner
Author Notes
Although, my grandpa never lived, "The life that almost happened." His sweet memory remains etched in my heart. There are times I'll walk along the shore, skip pebbles on the water, then seem to hear my grandpa say, "Oh, my God! What a whopper I caught for supper." He asked me once, "Do you hear the clock ticking?" "Of course, Grandpa," I replied. "Then grab hold of time and fill your pockets full," he said. Of course, there were times I didn't listen! As always, thanks for reading my work. A special 'thank you' to, avmurray for the artwork.