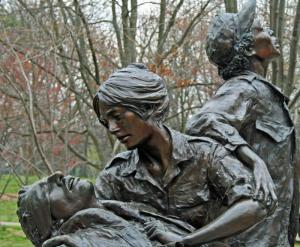 He wrote
of the War
that
was
not
a
War!

He went to fight
like
a good little soldier-
trained to kill
maim
destroy at will.

Taught to have
no feelings
as he took a life-
plunging a bayonette
into soft yielding flesh.

Watching the body
of his enemy jerk
as a bullet ripped
through clothes
leaving a spreading
red stain
like a rose blooming.

Wondering if
he would fall
beside his best friend-
sounds gurgling
from the open wound
in his throat.

Would he find the
bungee sticks
that would end his life
as the poison
would spread
from his punctured heels
to his tired brain?

He was afraid
he would have to take the life
of a boy or girl who
had grenades strapped
to their bodies
as they were
forced to die
while killing ... him.

He had to crawl
like a rat
down holes no bigger
than a pet door
to flush out
the enemy.

Somewhere
in this experience,
he
lost
his
faith.
Author Notes
hchriste thank you for permission to use your picture.