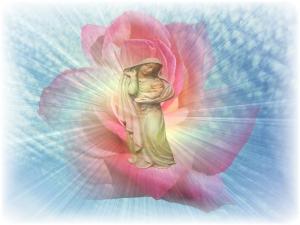 **Dedicated to Brittney**
"Events here actually happened, names are changed"



*************************

Sweet, Jesus! I heard Brittney softly praying, in the green
meadow up ahead.
Walking along the pathway of yesterday, I came near, and
heard what she said;

"Oh, my! I know you are peacefully sleeping, Baby Jesus,
but whatever shall I do?
My daddy just up and went away, It seems like yesterday,
is he there with you?"

Dear, God! Just then, my heart beat like a drum, and tears
came to mind.
When Little Brittney softly called up to Baby Jesus, so
humble and refined;

"Guess what my mommy just up and told me? She said, I don't
know what to do!"
But, if you'll run along and find a quiet place in the meadow,
Baby Jesus He'll tell you."

Just then, like a mustard seed, my grief and sorrow sprouted
at the start.
Oh, how quickly they grew in my mind and then, straight
through my heart.

Raising my tear filled eyes toward heaven above, I then let
the mercy flow.
"Please, Baby Jesus, won't you answer up? For Little Brittney
needs to know."

Although I tried twice to swallow, the grief and sorrow would
not go down.
"Is my daddy up there with you, Baby Jesus?" Brittney prayed,
kneeling on the ground.

"Oh, just go right ahead and cry, Brittney, I softly whispered,
for Baby Jesus wept that day.
He's wide awake now, heard your prayer and answered, your
daddy he's OK!"

"So, wipe your eyes now, then hurry and tell your mommy, that
Baby Jesus spoke to you.
Said your daddy's hook's baited up, he's on the Golden Pond,
gonna catch a fish or two."

"Run along now--walk, hop, skip, jump and do the tralalala, etch
daddy in your heart.
He fought like King David, bled, stumbled fell and yet, stood tall,
then quickly did his part."
************
"Baby Jesus, Is Daddy There?"
Writing Prompt
Sadness has overcome us all at one time or another. Either caused by a relative or close friend's death or from the girl or guy that broke our heart or just life in general. We all handle situations differently, some good, some bad. This contest gives us the ability to explore this. Your poem can also play into other emotions that are common to writing like this such as anger or depression.
Sad Poems
Contest Winner
Author Notes
All events here are true and yet, the names of characters are changed. Back during the Gulf War, (Aug. 1990-Feb. 1991) I led a "Joint Services Commando Team" on an early morning mission to seek out and destroy Saddam Hussein. We were ambushed by Iraqi Guerrillas, firing mortar rounds from behind the rocks. Six rounds fell short and yet, one impacted the ground dead center on our position. Before the delayed timing mechanism in the fuse ran down, Larry, our Navy Seal, threw himself on the round and yelled; "haul-ass, Commandos," this one's mine!" A moment later, the round exploded. Quickly moving to Larry's aid, I saw a gaping hole in his belly, with blood and guts everywhere. Sitting down, I held his head in my lap. Larry looked up, smiled, slowly closed his eyes and died. I laid his head on my vest, then beat my fist into the rock until it bled. "Why, God? Was Larry closer to the mortar round than me," I yelled. I personally arranged for Larry's funeral in Arlington. When TAPS was sounded, Ole Glory was presented to Larry's Widow, who in turn, passes it on to her daughter, Brittney. I recommended a Silver Star and Navy Cross be awarded Larry posthumously, "for bravery above and beyond the call of duty." Within a month the Secretary of the Navy presented both to Larry's Widow, who once again, passed them on to Brittney. Somehow, "It seemed so little--for so much!" Two months later, I came home from Iraq, and went to visit with Larry's Widow and Brittney. It was a beautiful day, we pick nicked in the meadow, talked of the good times and sang happy songs. We watched Brittney chase butterfly's across the meadow, then disappear from sight. "I better go find her, or she will get lost," I said. I walked quickly through the meadow, then stopped short when I heard Brittney praying. Of course, you have read the rest. As always, thank you for reading my work.