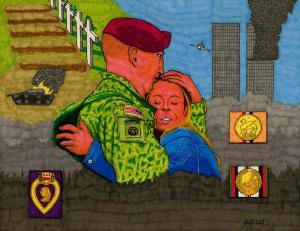 I Love You, Darling.

I don't know
if I will be back
this time.

But that
is always
the game played.

You know
I have to go
this
one
last
time.

If I don't come home
you have the strength
to go on.

If I don't come home
find in your heart
to be happy.

Our lives together
have been the best
but
I have to go.

I would never
wish our time
away
and
have never
regretted a moment.

You have been
my love and my life;
please remember me.

You will be with me
every moment
I am gone.

If I do not survive
this last tour
away from you,
I will find a way
to say goodbye.

This I say
as I hold you close
so that I can remember
every thing about you.

Your softness
the taste of your tears
your gentle arms
your loving soul,
all for me.

All I can say is
"I love you".
You know the rest
in your heart.

Writing Prompt
Sadness has overcome us all at one time or another. Either caused by a relative or close friend's death or from the girl or guy that broke our heart or just life in general. We all handle situations differently, some good, some bad. This contest gives us the ability to explore this. Your poem can also play into other emotions that are common to writing like this such as anger or depression.
Author Notes
MKFlood thank you for permission to use your picture.

This is felt more times than it should ever be.