MARYM224
IN PRINT
ABOUT
MARYM224
From the age of 1 - 30years, I lived in UK. I then spent 46years living in Australia and became a "possie" (Pommie/Aussie). A widow in 2009, I decided to return to UK and live out the rest of my life. In all these years, I have gathered an endless f - more...
Portfolio | Become A Fan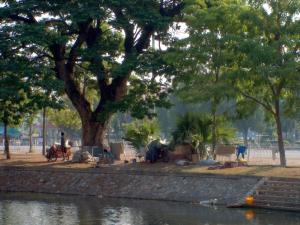 Tom let himself into Alf's private ward and pulled the belt of his brown dressing gown tighter. " How are you today, Alf?" He always began his visit with this question, and knew already what the answer was going to be.

"Bored, Tom. Bored."

"Yes, it's no fun being in a nursing home, is it? You've been here five years now, haven't you?" Tom shook Alf's hand which seemed bonier every day. Alf had a wasting disease and knew his life was ending soon, but he kept fairly cheerful. He took his medications meekly and was no trouble to the nursing staff. But he'd been an adventurer in his younger days, and being confined to his bed now was not Alf's idea of heaven.

Tom sat stiffly on the chair beside the window. This arthritis was his price for getting old, much as he tried to ignore it. "Want the curtains pulled back, Alf?" The light was too much for Alf's failing eyes, but Tom knew what was coming next. They'd both kept up this ritual for months now and the repetition seemed to soothe Alf.

"No thanks," Alf replied quietly. "The light... you know."

Tom nodded. They lapsed into a comfortable silence, but all the time Tom was waiting for the next step. He didn't object to it because he was fully aware of his own good fortune. Although his family had decreed that he come here when Sara died, Tom was comfortable and moderately happy with the situation. He couldn't have stayed for long in their little cottage anyway. Sara was the light of his life and the entire reason he loved their home. When he'd met Alf, after wandering around the corridors one day to exercise his aching legs, he'd realised he had a lot to be grateful for. Alf had called him into his room, and their friendship had blossomed from there. Each day, Tom popped in to have a chat. But he knew what was coming next.

"Have a look out the window, Tom. Tell me what you can see. You make it sound so interesting and I feel better."

Tom swivelled around and lifted the corner of the curtain. "Oh, it's one of those lovely days again, Alf. It's Spring, y'know, and the trees out there are covered in new buds. It's good you having a room overlooking the park. So much goes on there. Oh, look, there's that girl with the two dogs, I told you about yesterday. She's wearing a light blue coat and those fur-topped boots that are all the rage now." Tom gave a chuckle. "Those two little dogs are giving her the run around again - shitzus, I think they are. Their tails are like flags, they are."

"What colour are they again, Tom? You did say, but I've forgotten."

"One is a silvery-grey and the other is a whitish colour."

"Mm," said Alf. "Did you know that shitzus change colour when they are clipped? I had one once, when I was in France. Faithful little bugger, he was. Shadow, I called him, because he was always there behind me."

"What happened to him, Alf?"

"Oh, I had to give him away when I was sent to Mexico. But I'm glad he was mine for a while. I still miss him, but I couldn't look after him now, could I? Still, I've got lovely memories of us playing on the beach. He loved chasing the ball..." Alf's voice faltered and Tom looked quickly at him.

"You alright, mate?"

Alf nodded. "Tell me some more about what's out in the park there, Tom."

Tom raised the curtain again. "Well, there's some little ones feeding the ducks on the pond, a Mum wheeling a pram, and an old couple sitting on the bench there, just watching them."

For a moment, Tom gazed out of the window and seemed lost in memories. He was remembering how he and Sara loved walking in the park and watching life pass by. He shook himself, and turned back but Alf had dropped off to sleep. Tom sighed as he noted Alf's emaciated body and drawn cheeks. "Wonder how long the poor bugger will last?" he muttered, then let himself quietly out of the room.

The following day, Tom strolled through the lounge where a young girl was playing the piano. She often came into the nursing home to entertain the residents, and Tom loved the fact that she could play anything that anyone asked for. He always used to ask her to play Sara's favourite song. "I'll be loving you, always..." Even though his throat went tight, he would sing along until it became impossible to get the words out. Then he would blow his nose loudly and move on.

He wandered out into the conservatory and closely observed the window boxes. The bright yellow primroses and velvety purple pansies were thriving well, and he bent to breathe in the delightful perfume of the blue hyacinths growing in white ceramic pots. The nursing staff did well to make the place as homely as possible.

"Don't forget, Tom," Sara had often said. "If one of us is left on our own, we must be kind to someone every day, as a tribute to the other."

That hadn't been a difficult promise to keep, and for this reason he visited Alf every day, just to cheer the old man. Tom made his way down the corridor to visit his friend but was surprised to find Alf's door wide open, and one of the nurses inside making the bed up.

"Where's Alf?" he asked but his instincts gave him the answer.

The nurse looked sadly at him and said, "He has no more pain, now."

Tom nodded sympathetically, just as the nurse opened the curtains wide.

"I don't know why these curtains are here," she said, trying to lighten the moment. "There's only a brick wall outside."


Two Old Men contest entry

Author Notes
Approx 970 words.
Pays one point and 2 member cents.
© Copyright 2014. marym224 All rights reserved.
marym224 has granted FanStory.com, its affiliates and its syndicates non-exclusive rights to display this work.